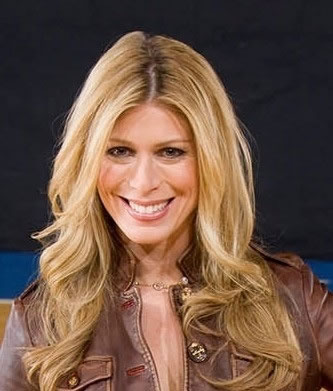 US Weekly Reporter Jill Martin to Guest Blog for Worldredeye.com
Emmy Nominated Television Personality to Contribute to Celebrity Photographer Seth Browarnik's Recently Launched Worldredeye.com
Seth Browarnik, entrepreneur, celebrity photographer and principal of Worldredeye.com, is proud to announce Jill Martin as the second guest blogger for his pop-culture site. The Emmy nominated television personality who regularly contributes to 'The Insider' and 'The Today Show' is also known for her fashion expertise. Jill plans to share her weekly tips and tricks for updating your look, closet and life exclusively with the readers of Worldredeye.com. She is the second guest blogger in an esteemed list of local and national celebs and tastemakers who will be contributing to the site.
www.Worldredeye.com
Every Friday beginning on June 4th
In early May 2010, Red Eye Productions (REP) the predominant celebrity/social photo agency in South Florida launched Worldredeye.com, Miami's first pop-culture blog. Worldredeye.com features pop-culture news content, backstage coverage of events and an insider tips about hotspots and happenings in Miami. World Red Eye users will get special access to all of REP's celebrity photos and coverage of the most exclusive events. World Red Eye will provide expanded coverage of the events its sister company, Red Eye, services to national weekly gossip magazines, entertainment news sources, monthly regional publications.
Seth Browarnik, 33, is the founder of Red Eye Productions, the predominant celebrity/social photo agency in South Florida and World Red Eye, a blog and website focusing on behind the scenes reportage from inside the hottest events in South Florida, www.worldredeye.com. Browarnik started his career in 1999 working for the newly launched OceanDrive.com, the on-line version of South Florida's premiere glossy, lifestyle magazine Ocean Drive, where his first assignment was covering the then nightclub of-the-moment, Liquid Nightclub. After an evening shooting Puff Daddy, Cher, Dennis Rodman, and a coterie of bold-faced names, he was hooked and found his niche becoming known as "the celebrity lensman of South Beach." Among the characters of the South Beach nightlife scene Browarnik soon found himself making rounds 7 nights a week at the chicest lounges, clubs, restaurants, and hotels. The coverage in oceandrive.com soon expanded to monthly pages in Ocean Drive magazine where his "Shot on Site" pages have become some of the most widely read content amongst the countries trendsetters. Media outlets featuring Red Eye Productions photographs include The Miami Herald, CBS-4 news, OK! Magazine, People magazine, People.com, Us Weekly, In Touch, Life & Style, VanityFair.com, New York Post's Page Six, New York Daily News, Access Hollywood, AccessHollywood.com, Extra, Entertainment Tonight, and more. In 2010 Browarnik launched World Red Eye, a personalized content provider with an emphasis on the Miami scene. While capturing the backstage of events and the velvet ropes World Red Eye will give viewers the opportunity to see themselves at "last night's party" and will draw audiences into the culture of the entertainment photographer. A blog and newsletter, World Red Eye will feature the most exciting and of the moment events with photos, video and reportage with a view from the front row and inside the VIP area.
Jill Martin is a fashion expert, three-time Emmy-Nominated television personality, and author of "Fashion for Dummies." Jill appears regularly on NBC's Today Show discussing everything from the latest trends to how to shop on a budget. She is well-known for the wildly-popular Today Show "Ambush Makeovers." Martin has done in-depth coverage from the Golden Globes and Oscars conducting celebrity interviews and discussing red-carpet fashions. A contributor to US Weekly magazine, the Long Island native can also be seen frequently on Access Hollywood, Extra, Entertainment Tonight and The Insider. A diehard sports fan, Jill is also a broadcaster for the New York Knicks, reporting during pregame and postgame shows and doing celebrity interviews at halftime. Her "Gimme-a-minute" segments are 60 second rapid-fire interviews with top celebrities who are sitting courtside. Some of her guests include John McEnroe, Robert Plant, Kevin Bacon, Ron Howard, and Spike Lee.