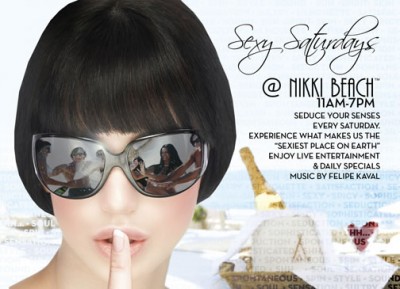 Sexy Saturdays at Nikki Beach South Beach!!
June 5 2010, From 11 am to 7 pm
Nikki Beach Miami
One Ocean Drive
Miami Beach Florida 33139
305 538 1111
www.nikkibeach.com
Join us for Sexy Saturdays!, Every Saturday From 11am to 7pm Witness for yourself why the London Observer calls us: "The Sexiest Place on Earth!" Tingle your senses with sensual food and drink specials, live entertainment, and sexy sounds by Felipe Kaval!!
BE SURE TO TRY ONE OF OUR NEW "FOURPLAY FOUNTAINS" ON SATURDAY! ACCOMPANIED BY DELICIOUS BAILEYS INFUSED STRAWBERRIES TO TICKLE YOUR TASTEBUDS!