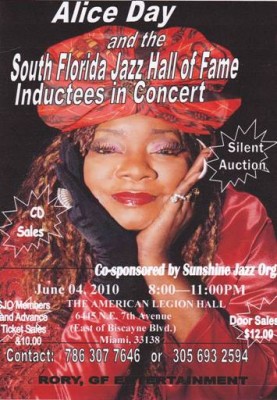 SOUTH FLORIDA JAZZ HALL OF FAME INDUCTION & CONCERT – JUNE 4 – 8PM
The Sunshine Jazz Organization of South Florida and Alice Day are poised for the second installment of "South Florida Jazz Hall of Fame". (SFJHOF) This special ceremony of inductees was established to take advantage of the opportunity to pay tribute to some of South Florida's legends, present and past. We honor those who made an impact in the world of Jazz at home and at large.
On Monday, October 19, 2009, The South Florida Jazz Hall of Fame inducted its first five members.
A special induction for Alice Day, founder and chairperson of the SFJHOF, was made by Sandrell Rivers and Thelma Valles, bringing the total number of inductees to six. The 2009 inductees were:
Julian "Cannonball" Adderley (Recording Artist & Entertainer Extraordinaire)
China Valles, "The Mahj" (Jazz Radio Personality)
Lenny Zeif (Jazz Club Enterpriser & Jazz Hot Line Producer)
Jesse Jones, Jr. (Recording Artist & Entertainer Extraordinaire)
Othello Molineaux (Recording Artist & Steel Pan Drummer Extraordinaire)
Alice Day (Jazz Vocalist, Recording Artist & Radio Personality)
This June 4, 2010, a special ceremony will be held to officially install these six individuals into the SFJHOF. Also at this ceremony, four inductees will be announced for 2011, having been chosen by special committee, and two more will be voted in by you, the audience, on that day.
Alice Day, "South Florida's First Lady of Jazz" will perform in concert along with other inductees and honored guests. Be on hand to rub shoulders with South Florida's newest Hall of Famers, and other performing artists. This is one event you don't want to miss. Alice Day will be leaving for Europe and the Far East the following day and may not return until May of 2011.
There will be CDs from most of the inductees on sale.
In conjunction with the SFJHOF, on June 4, 2010 The Sunshine Jazz Organization (SJO) will hold a member-ship drive and silent auction.
Advance Tickets $10.00, SJO Members $10.00, Door Sales $12.00
Call (786) 307-7646 or (305) 693-2594 for ticket purchase.
Come on out and share a laugh, or a smile or a song, or better yet, bring us a hug……see some folks you haven't seen in a long time….and BRING YOUR AX
June 4, 2010, 8:00-11:00 pm
American Legion Hall
6445 N.E. 7th Ave
Miami 33138 (East of Biscayne Blvd.)
(305) 757-5773
Paid promotional distribution by: JazzBluesFlorida.com