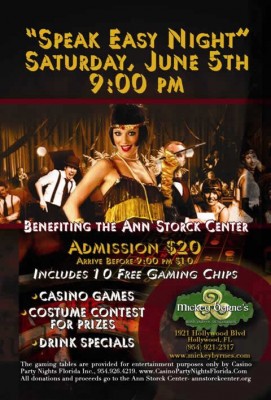 Come join the Ann Storck Center Professionals Group
on Saturday, June 5th
for Speak Easy Night
at Mickey Byrne's Irish Pub & Restaurant in Hollywood, FL.
June 5, 9:00pm
Sponsors
Sponsorship opportunities are available starting at $100. Sponsors will be recognized with a sign placed on one of the casino game tables. It's a great chance for your company, or any other businesses you know of, to get their name out in the community at a very small cost! If you are interested, please contact akirk@ascfl.org.
Ann Storck Center, Inc.
www.ascfl.org
The Ann Storck Center is a nationally accredited, highly acclaimed 501 (c) (3) non-profit human service organization serving the needs of children and adults in South Florida who present severe and multiple developmental disabilities including Epilepsy, Cerebral Palsy, Autism, and Mental Retardation. The Center strives to discover and build upon the uniqueness and strengths of each person it serves in order to provide life-enriching experiences.