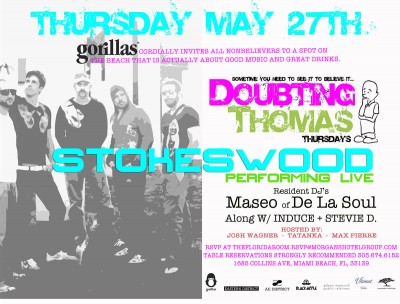 Stokeswood Live In Miami
Stokeswood In May
Tuesday, May 25, 2010 The Electric Pickle Late-night dance party – 12:30 a.m. 2826 N. Miami Ave Miami, FL 33127
Thursday, May 26, 2010 NBC South Florida Today Catch Stokeswood live on NBC6 11 a.m.
Thursday, May 26, 2010 The Florida Room at The Delano, Featuring Resident DJ Maseo of De La Soul – 11 p.m. 1685 Collins Ave (Enter on 17th Street) Miami Beach, FL 33139
Friday, May 28, 2010 Tune into 88.9 WDNA / WDNA.ORG for Sound Theory Live with Stokeswood – 7 – 8 p.m
Miami is now home to Atlanta's hottest electroacoustic band, Stokeswood. The group will push their deeply layered sound into the realm of dance-beat-laden, synthesized rock with live performances every month in the Magic City. The band's Miami residency began at The Florida Room at the Delano in March 2010 and will continue each month at many of the city's diverse venues. Stokeswood's ultra-modern vibe compliments the Miami nightlife experience. This synergy is set to expose the city to a cutting-edge sound and augment its already vibrant live music scene.
About Stokeswood:
Atlanta-based Stokeswood's independently released album, Carassia, is like a sonic excursion between the lines of a poet's story-telling prowess. Thoughtful introspection on the human condition is amplified and challenged by the layered accents of electroacoustic guitars, pianos, synths, strings and drums. The soulful and captivating vocals of Adam Patterson carry each melody flawlessly through the rhythms and musical harmonies of each track. From start to finish, the album sparkles with intelligent musicality and impressive originality that sets Stokeswood apart. The band is currently recording its second studio album slated to debut in Fall 2010.
"Stokeswood is a marvel to watch, as they switch between instruments, giving up their spot on keys, synths and guitar like a game of musical chairs, all the while keeping up an irresistible, danceable backbone to the imaginative melodies and powerhouse, gut-wrenching vocals of Adam Patterson. The band undeniably owns the room with their unique unpredictable sound, expressive beats and high- energy presence. The new songs were infused with confidence in a sound that can only really be called Stokeswood's." – Performer Mag
Adam Patterson: guitar, lead vox, synths Mark Godwin: lead guitar, synths, vox, harmonica Reed Irvine: bass, piano, organ, synths, vox Jon Joiner: drums, synths, vox Andrew Pollet: bass, vox
For More Information, Please visit www.stokeswood.net
Thank you for using Soul Of Miami!