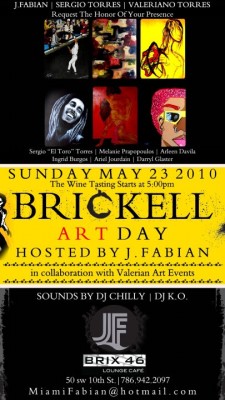 Fabian's Brickell Art Day / Wine Tasting
May 23, 2010, 5pm-10 pm
BRIX46
50SW 10th St. # 46
Miami, FL
http://artday.quecoco.com
Hosted by Fabian in collaboration with Valerian Art Events.
Please Join Us for the first installment of Brickell Art Day- an event to highlight the cultural diversity that is Miami-Dade Artist with the svelte sophistication of Brickell's BRIX46.
May 23, 2010 from 5-10 pm we request the honor of your presence.
BRIX46 with an ambiance all to its own will host Brickell Art Day, an event that brilliantly reflects the spirit the emerging Brickell Art scene. The indoor and outdoor seating will cater to guest overall experience of cultivated leisure while regarding selections of accomplished Miami Artist.
Amongst the Artist Being shown are;
Sergio El Toro Torres,
Melanie Prapopoulos,
Arleen Davila
Ingrid Burgos
Ariel Jourdain (Near Classicals)
Darryl Glaster
*RSVP is Strongly encouraged.* Guest who RSVP will be entitled to complimentary Admission, Wine Tasting, hors doeurves, and an 8.5 by 11 print by prominent Artist Sergio El Toro,
For information please contact
FABIAN 786.942.2097 or Valeriano Torres 786.619.7886
In addition to art we, on behalf of Brickell Art Day, extend to you as well music by;
DJ Chilly
DJ K.O.
DJ RON D
And live performances by;
JC (VIOLIN)
The Event will be photographed by
Dee Delgado,
Jarrod G.
and others
Brix46 (Next To Archies)
50sw 10th St. # 46
Miami, Florida
Click For The Google Map Link
Park along the street, on 10th Street (going West) or in the convenient garage. Walking distance from free Metromover to Mary Brickell Village or Brickell Metrorail stop also put you within walking distance BRIX46.
Rsvp Is Mandatory
Contact J.Fabian
786.942.2097
Miamifabian@Hotmail.Com