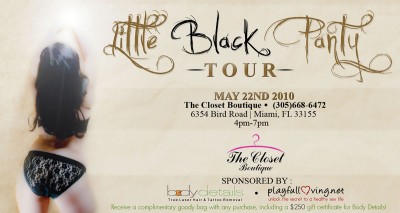 Priscilla Jade Lingerie's "LITTLE BLACK PANTY TOUR" Makes a Stop at The Closet Boutique
May 22, 2010, 4:00 pm – 7:00 pm
The Closet Boutique
6354 Bird Road Miami, FL 33155
www.lingeriebypj.com
THE "LITTLE BLACK PANTY TOUR" STOPS AT THE CLOSET BOUTIQUE SATURDAY MAY 22, 2010
Trunk Show Discounts, Goodie Bags, Cocktails And Custom Lingerie Appointments With The Designer Behind Priscilla Jade Lingerie
South Miami fashion hot spot, The Closet Boutique, is teaming up with Priscilla Codinach, owner and designer of Priscilla Jade Lingerie, for the ultimate sexy-girl evening. The latest stop on the Priscilla Jade Lingerie "Little Black Panty Tour," this exclusive trunk show-turned-panty-promo event is slated for Saturday May 22, 2010 from 4:00 p.m. to 7:00 p.m.
Guests will have the chance to be among the first to view the most recent addition to the Priscilla Jade collection, intimates described by the designer as "the perfect panty for the perfect night in a little black dress." In addition to the preview, guests can also expect to enjoy:
· Complimentary cocktails and cupcakes
· Goodie bags stuffed with sensual treats
· Free gifts from Body Details laser hair and tattoo removal and PlayfulLoving.net
· A chance to meet with the designer for custom appointments
· A $5.00 discount for every $50.00 spent on merchandise from The Closet Boutique
For more information or to RSVP, guests may call the store at 305.668.6472.
About Priscilla Jade Lingerie
Priscilla Jade, Inc. is committed to providing exceptional and superior intimate apparel for women of every lifestyle and stature. Priscilla Codinach, the company's owner and head designer, is inspired by a fascination for 1940's cinema and classic retro style. She incorporates theatrical elements and costume into each collection. For additional information visit www.lingeriebypj.com.
About The Closet Boutique
Located at 6354 Bird Road, The Closet Boutique is open Tuesday through Saturday from 11:00 a.m. to 7:00 p.m. and Mondays by appointment only. The store carries the season's most up-to-the-minute trends including floral patterns, sweet pastels and shimmering brights from designers such as Love Stitch, Gold Saturn, Double Zero and Jimmi Vee Tees with new clothing shipments arriving weekly. For additional information contact The Closet Boutique at 305.668.6472.