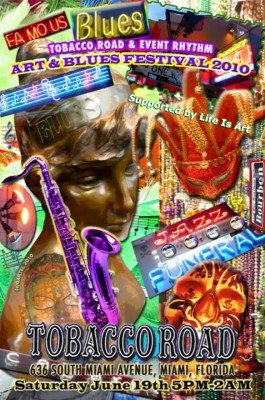 Life Is Art is proud to support Event Rhythm Management and the Tobacco Road Art and Blue Festival on June 19, 2010.
CALLING ALL ARTISTS!
Tobacco Road Art and Blues Festival 2010
Saturday, June 19, 2010
5: PM – 2: AM
Tobacco Road
626 South Miami Ave
Miami, FL 33130
You are invited to participate in the Annual Art and Blues Festival at TOBACCO ROAD. The year's festival will be held on Saturday, June 19, 2010 from 5pm to 2am.
The Legendary TOBACCO ROAD, "Voted one of the 100 Best Bars in America" presents the most brilliant new Artists and Local Legends as they light up the Downtown Skyline in celebration! Supported by Life Is Art.
TOBACCO ROAD, Miami's oldest bar, restaurant, cabaret and Mecca for live music & art is giving artists (professional and amateur) the opportunity to leave a mark on their 2010 Art and Blues Festival!
This year TOBACCO ROAD has an incredible & electrifying lineup.
Some of these bands include:
One of the Original Blues Brothers
Blues Legend Matt "Guitar" Murphy
The Nouveax Honkies
Iko Iko
Life Is Art is one of the sponsors for this event.
Exhibitor Space is limited
Artists Submission Deadlines:
Early Artist Special – June 1st, 2010
Final Artist Deadline – June 14th, 2010
NO COST TO APPLY
Download application and Information:
MS Word Format
PDF Format
Be sure you mention Life Is Art on your application.
Return All Documents To:
Event Rhythm Management, LLC
7601 E. treasure Drive, #708
Miami Beach, Fl. 33141
Tel. 786-223-2554