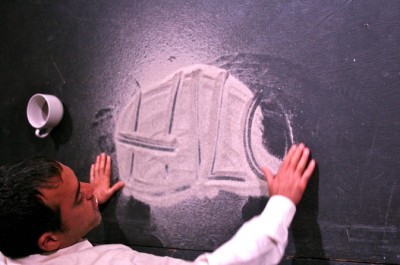 "Miami On Stage"
Presenting South Florida Performing Artists
Saturday, June 5th … a Theater Night with Two Premiers
Hilo (Thread) and Sipping Fury from a Tea Cup
Buy Tickets Here.
Date & Time: 06/05/2010 8:00 PM
Byron Carlyle Theater
500 71st Street
Miami Beach
"Hilo" by Jose Manuel Dominguez, directed by Lucia Aratanha
Hilo (Thread) is a physical theatre project that uses movement, poetry, visual art and sound to express subjects of evolution, adjustment, modification, and adaptation to change for the sake of survival. Having lost his eyesight many years ago, writer and actor José Manuel Domínguez juxtaposes his own memories with mythological characters, and incites the audience to contemplate their own limitations and possibilities of transformation. Directed by Lucia Aratanha, "Hilo" develops in a non-traditional format. Aratanha conceptualized a set with carefully woven ropes, constructing imaginary chambers and passageways like the Labyrinth in the Greek mythology. It through this maze of ropes that the scenes move from dream to reality with no apparent chronology as a metaphor to our own mind where memories and dreams mingle. "Hilo" puts into play the realm of myths known and unknown, a world of fatal choices and unexpected mystery.
José Manuel Domínguez is graduated from the Instituto Superior de Arte, Havana, Cuba having Vicente Revuelta as his mentor. José Manuel was a member of the controversial and avant-garde theatre troupe Teatro El Publico with director Carlos Diaz. Their polemic productions were staged in Cuba, Spain and Brazil.
Lucia Aratanha arrived from her native Brazil to Miami in the 1990's with 20 years of experience as a performer, choreographer and director. Her work has been presented at the International Hispanic Theatre Festival and Miami Light Project Here & Now Festival. Lucia had the pleasure to collaborate with artists Ricky J. Martinez, Giovanni Luquini, Gary Lund and Pablo Cano. "Hilo" is the third collaboration between José Manuel Domínguez and Lucia Aratanha.
Sipping Fury from a Tea Cup
created by Elizabeth Doud and Jennylin Duany and performed by Elizabeth Doud and Carlos Caballero
Sipping Fury from a Tea Cup is a tale of a woman, a tea cup, and a roiling pot of fertility, mutiny, destiny and honey bees, which takes place in a not so impossible future when there are no honey bees left and our pollination systems become fantastic, reckless and uncertain. Imagine a world where there are no longer any bees. Imagine a day when the pastures of plenty that we think of as guaranteed to us cease to mature into fruits and vegetables. Imagine a day when you only have enough viable soil to fit into a teacup. In the absence of these principle pollinators of the edible species we rely on for our food, and for our food's food, the anti-heroine of our story toils in the search for revived fertility for her and the planet. This multi-disciplinary performance work explores the mystery of the disappearance of bee colonies (known as Colony Collapse Disorder), and what lengths one might go to in order to rescue our planet's best and most threatened fertility mechanisms.
Elizabeth Doud is a performer and writer who has been influenced by many contemporary literary and movement forms, and the culture and practice of Flamenco and Capoeira. She is an independent artist and was co-Artistic Director of the Miami based Las Negras Theater Collective with collaborator Jennylin Duany. Doud arrived in Miami in 1996 to launch an unrelenting performance and collaborative stint, creating, producing and touring over a dozen original performance productions locally, nationally and abroad.
Carlos Caballero, is graduate of the Instituto Superior de Arte de la Habana. Carlos has worked as an actor in theater and specifically with Teatro El Publico and La Ventana in Cuba. Carlos has performed in over 20 plays including plays by Shakespeare, Garcia Lorca, Cocteau, and other. He has worked extensively in film and television in Italy, Spain, Brazil, Panama, Peru, Mexico, and the United States.
Tickets: $20 General Admission, $15 students (under 25) and seniors (over 65), with I.D. Purchase through Ticketmaster at www.ticketmaster.com and by phone (800) 745-3000 (service charges apply), or in-person (no service charges) at the Byron Carlyle Theater day of show at 4:00 p.m. and in advance at the Colony Theatre box office, 1040 Lincoln Road. Miami Beach from 12:00 p.m. – 5:00 p.m. A limited number of $15 discounted general admission tickets are available for 33141 zip code buyers with I.D. in-person at all theater box offices only. Group rates are available by calling 305 316 6165
Buy Now