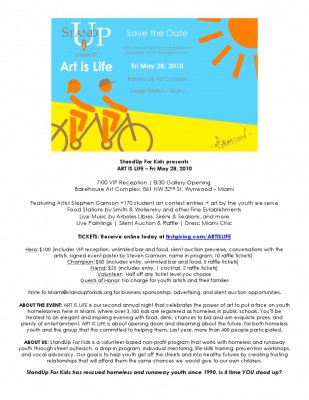 StandUp for Kids Presents
ART IS LIFE – Fri May 28, 2010
7:00 VIP Reception | 8:30 Gallery Opening
Bakehouse Art Complex, 561 NW 32nd St, Wynwood – Miami
Featuring Artist Stephen Gamson +170 student art contest entries + art by the youth we serve
Food Stations by Smith & Wollensky and other Fine Establishments
Live Music by Arboles Libres, Sirens & Sealions, and more
Live Paintings | Silent Auction & Raffle | Dress: Miami Chic
ABOUT THE EVENT: ART IS LIFE is our second annual night that celebrates the power of art to put a face on youth homelessness here in Miami, where over 3,100 kids are registered as homeless in public schools. You'll be treated to an elegant and inspiring evening with food, drink, chances to bid and win exquisite prizes, and plenty of entertainment. ART IS LIFE is about opening doors and dreaming about the future, for both homeless youth and the group that this committed to helping them.
ABOUT US: StandUp For Kids is a volunteer-based non-profit program that works with homeless and runaway youth through street outreach, a drop-in program, individual mentoring, life-skills training, prevention workshops, and vocal advocacy. Our goal is to help youth get off the streets and into healthy futures by creating trusting relationships that will afford them the same chances we would give to our own children.
Business sponsorship, advertising, and silent auction opportunities are available: Email miami@standupforkids.org to learn more.
StandUp For Kids has rescued homeless and runaway youth since 1990. Is it time YOU stood up?
RESERVE YOUR TICKETS TODAY
Hero: $100 (includes VIP reception, unlimited bar and food, silent auction previews, conversations with the artists, signed event poster by Stephen Gamson, name in program, 10 raffle tickets)
Champion: $50 (includes entry, unlimited bar and food, 5 raffle tickets)
Friend: $25 (includes entry, 1 cocktail, 2 raffle tickets)
Volunteer: Half off any ticket level you choose
Guests of Honor: Donations welcome. No charge for youth artists and immediate families – just show up at the door.
Instructions: Choose your contribution and purchase tickets now to be picked up at the door. List number of tickets desired and main ticket holder's name in memo.
Tickets can be picked up at the door when the event starts.