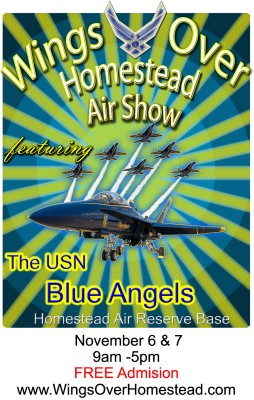 2010 Wings Over Homestead Air Show
November 6 & 7, 9am to 5pm
Homestead Air Reserve Base
29050 Coral Sea Blvd
Homestead Fl, 33039
www.wingsoverhomestead.com
Jaw-dropping precision aerobatics will be highlighted against a backdrop of jet sound as the U.S. Navy's Blue Angels headline an all-star list of performers at the Homestead Air Reserve Base "Wings Over Homestead" air show Nov. 6-7, 2010. This is a FREE event and open to the public!
The 482nd Fighter Wing, which maintains and operates Homestead Air Reserve Base, FL, is a combat-ready Air Force Reserve unit located 25 miles south of Miami. The wing consists of approximately 1,800 military and civilian members who reside here in South Florida.
Blue Angels – A Blue Angels flight demonstration exhibits choreographed refinements of skills possessed by all naval aviators. It includes the graceful aerobatic maneuvers of the four-plane Diamond Formation, in concert with the fast-paced, high-performance maneuvers of its two Solo Pilots. Finally, the team illustrates the pinnacle of precision flying, performing maneuvers locked as a unit in the renowned, six-jet Delta Formation…
Golden Knights – The United States Army Parachute Team, nicknamed and commonly known as the Golden Knights, is a demonstration and competition parachute team of the United States Army. It consists of demonstration and competition Parachutist teams, drawn from US Army Paratroopers who have demonstrated excellence in their parachuting skills…