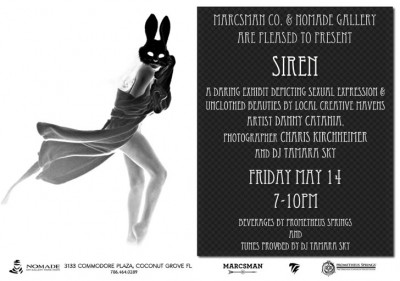 SIREN: Art Exhibit of Sexual Expression and Unclothed Beauties
Friday, May 14, 7:00pm – 10:00pm
Nomade Art Gallery
3133 Commodore Plaza, Coconut Grove, FL 33133
http://current.com/groups/art-and-style/92428739_siren-an-art-exhibit-of-sexual-expression-unclothed-beauties-fri-5-14.htm
SIREN: an Art Exhibit at Nomade Gallery by Charis Kirchheimer, Danny Catania, Tamara Sky
Food + Drinks by Prometheus Springs & Tunes by DJ Tamara Sky
3133 Commodore Plaza, Coconut Grove, FL 33133
Friday May 14, 7 – 10pm
SIREN: A DARING EXHIBIT OF SEXUAL EXPRESSION AND UNCLOTHED BEAUTIES
Coconut Grove, Fl.– In what will be their first major gallery feature, local Miami artist Danny Catania and photographer Charis Kirchheimer will showcase their respective artistry in Coconut Grove's latest unveiled gallery Nomade. On Friday May 14, Charis Kirchheimer will join Danny Catania for an exclusive art show titled "SIREN".
SIREN is a daring exhibit that depicts sexual expression and unclothed beauties from watercolor, ink and photograph perspectives. Charis will showcase two series, "Zoophilia", a daring black and white photographic collaboration with DJ Tamara Sky that captures an ethereal bunny-being sauntering in a ghostly dimension, and "Transience", an engrossing pair of long exposure self-portrait photographs. Danny will add to his nude watercolor collection India ink pieces from his latest body of work, female figure studies that marry Greco-maritime aesthetic with raw feminine spirit.
The Nomade Gallery kicked off Coconut Grove's Art Walk the first Saturday of the month, May 12010, with an unprecedented event of two live nude photo-shoots, the first inspired by the early 20th century sculpture masterpiece "Le Penseur" by artist Auguste Rodin, and the second a commemoration of the 1972 international "chess match of the century" recreated by the male and female models, an art affair that prompted The Miami New Times to dub Nomade's May 1 show the "…highlight of [Coconut Grove's] art walk…".
Danny Catania is Nomade's May "Feature Artist". Danny is a native Floridian with a unique style easily recognized for its sensuality and modernity. His female figure studies have earned him a permanent home in the French restaurant Les Halles made famous by globetrotting chef Anthony Bourdain, and has been exhibited in local art shows and restaurants, as well as in private collections abroad. Miami's finest professionals and cultured socialites gravitate towards Danny's work, which celebrates the rejuvenation of art and beauty.
Charis Kirchheimer is a Miami based photographer who began her career in early 2007. She has mastered the craft of enchanting and engrossing in the same frame, while continually shaping new standards of photography. In addition to being an acute cityscape photographer, Charis excels at taking an individual and transforming them into an imposing character. Over Art Basel Miami Beach 2009, her "Zoophilia" series had an exclusive show at the Shore Club and was a feature artist in Miami's Independent Thinkers multimedia art festival for her long-exposure series "Transience", both of which will showcase during SIREN. Charis has also been featured and shot for Ocean Drive Magazine, 944 Magazine, The Miami New Times, Architectural Digest, Italian blog Camera Obscura and Missbehave Magazine.
ARTISTS: Georges Bourgoignie, Danny Catania, Charis Kirchhimer, Looi Long Lee, Aida Tejada, Pierre Traversat
For more information on Nomade and the artists, please visit their websites:
Nomade Gallery: wwww.NomadeArts.com
Danny Catania: www.DannyCatania.com
Charis Kirchheimer: www.CharisKirchheimer.com