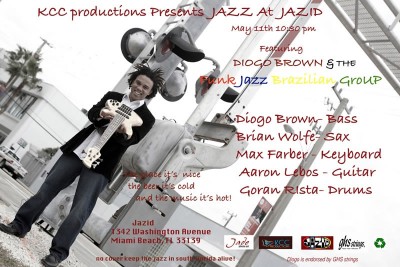 KCC Productions and Jazid present: Jazz at Jazid!
Diogo Brown & the Funk Jazz Brazilian Group
Tuesday, May 11, from 11PM – 2AM
1342 Washington Ave., South Beach
305-673-9372
Diogo Brown, bass player, song writer and producer, 29 years old, is from Niteroi, Rio De Janeiro , Brazil. Diogo's outstanding work has been showcased with artistis like: Antoio Adolfo, Cris Delano, Kenia, Paulo Moura, Brazilian Voices, Garry King, George Tandy Big band, Felipe Lamoglia, Liset Alea, Rose Max & Ramatis, Hot Brass Monkey Big Band, Banda Black Rio, Lanzallamas Monofonica, and so many others. Diogo also recorded the soundtracks for shows, jingles, commercials, and films, including "The Machine" by Joao Falcão, the film about the soccer player " Ronaldinho Gaucho", "The Little Prince the show" and released his CD, "Daqui Pro Mundo", at the Arturo Sandoval Jazz Club featuring Mike Orta, Oscar Salas, Jean Caze, James McCrevy and others.
Miami Nightlife