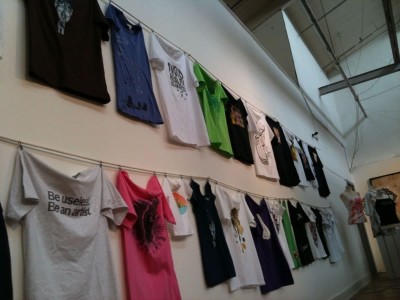 Friday Night, May 14th , 7-10pm
3 New Exhibitions
65 Artist Studios
Music & Wine
A silent auction of teeshirts created by BAC Resident Artists
All proceeds will go towards rebuilding the BAC's landscape and help fund the purchase of replacement trees for the property.
Audrey Love Gallery: Contemporary Landscapes
Contemporary Landscapes addresses the use of new technologies in relationship to the historical practice. Artists of the twenty first century are relating themselves to their surroundings through video, digital media, and the exploration of fantastic worlds. These seemingly new approaches to dealing with the landscape are taking all factors of surroundings into consideration when creating a depiction of the world surrounding the artist. Artists in the show will include Richard Höglund, Samantha Salzinger & Julia Hetchman.
Curated by: Nina Johnson of Gallery Diet
Exhibition on view through May 24th, 2010
Project Room: Juan Greigo presents PA!
PA! consists of a bb rifle, a bamboo pole, and Luxembourg plates, all privately conserved, placed in a contemporary space and re-threaded through cohesive narrative by new BAC installation artist Juan Griego, who believes that deconstructing museum and gallery mechanics will lead us into neo-proper 21st century object acquisitions and display.
Swenson Gallery: MDC Kendall Campus: Less is More
Emerging Artists of the community.
The Miami Dade Kendall campus art students group exhibition "Less is more" small works exhibition. Featuring Photography, Drawing, and Painting, 8.5″ x 11″ or smaller.
BAKEHOUSE ART COMPLEX
www.bacfl.org
Bakehouse Art Complex | 561 NW 32nd Street | Miami | FL | 33127