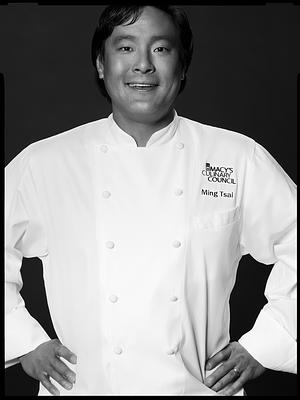 TV Celebrity and Macy's Culinary Council Chef Ming Tsai Dishes the Secrets of Great Pan-Asian Cuisine
Saturday, May 15, 2010, 1 pm
Macy's Home Store at Dadeland Mall
Macy's Home Store at Dadeland Mall
Culinary Kitchen, 2nd floor
7675 SW 88th Street
Miami, FL 33156
http://bit.ly/culinarycouncil
Macy's and Ming Tsai team up to demonstrate "East Meets West Cooking" at the culinary kitchen at Macy's Home Store in the Dadeland Mall. The award-winning chef will prepare: New Style Salmon Sashimi, Asian Ratatouille with Couscous and a Tamari Marinated Tofu Cucumber Salad.
Ming Tsai started cooking at his family's Chinese restaurant as a teenager in Dayton, Ohio. He then pursued a mechanical engineering degree from Yale University, which proved to be a brief detour in a career that would lead him to Paris, where he Studied at Le Cordon Bleu. Soon afterwards, he began working at Fauchon and Natacha where he encountered east-west cuisine for the first time. Back in the United States, Ming earned his master's degree in Hotel and Hospitality Administration and Marketing which led him to the Mandarin Oriental Hotel in San Francisco.
Fast forward to 1998, Ming returned to the Boston area and opened his three-star restaurant Blue Ginger. Shortly after opening, the restaurant was nominated as "Best New Restaurant of the Year 1998" by the James Beard Foundation, as well as Esquire Magazine honored Ming as the "Chef of the Year 1998." Numerous accolades followed, including the James Beard award for the 2002 Best Chef Northeast and Second Most Popular Boston Restaurant by the Zagat Restaurant Guide for seven consecutive years.
Ming, an Emmy Award winner, currently hosts and is executive producer of the public television cooking show Simply Ming. Ming is the author of three cookbooks: Blue Ginger, Simply Ming, and Ming's Master Recipes. He is a national spokesperson for FAAN (Food Allergy and Anaphylaxis Network) and hosts a weekly podcast offering tips and tutorials on everything from filleting fish to decanting wine. Ming is also a founding member of Chefs for Humanity, a coalition of chefs and culinary professionals who organize relief and fundraising for people in need throughout the world. He is proud to have cooked for the police force and displaced victims of Hurricane Katrina.