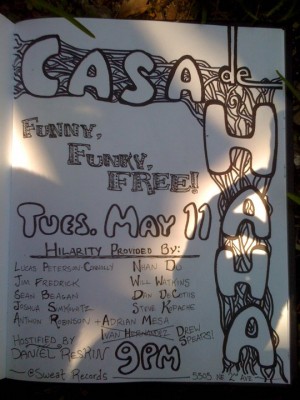 Casa de Ha-ha
May 11, 2010, 9:00
Sweat Records
5505 NE 2nd Ave Miami, FL
www.SweatRecordsMiami.com
CASA DE HAHA IN YOUR FACEHOLES
Miami's monthly stand-up comedy showcase. Every 2nd Tuesday.
This month, we are treated by the presence of comics from the hearty NORTHLANDS. Yes, Boca, West Palm, Delrey Beach. S'gonna be a good'n.
Hilarity Provided By:
Nhan Du
Lucas Peterson-Connolly
Jim Fredrick
Will Watkins
Steve Kopache
Antwon Robinson
Joshua Simkowitz
Sean Beagan
Dan DeCotiis
And Adrian Mesa
And Ivan IS DEAD… riding his corpse, we got DREW SPEARS!
And I'm Daniel. I make it go.
Enough with the naming of names. What else can I say to convince you to attend? Come and have the fun laughter times.