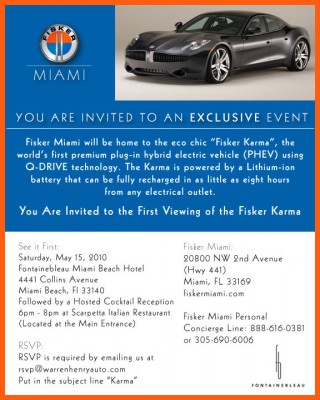 Warren Henry Automobiles to host reception at Fontainebleau Miami Beach
Fisker Karma, the world's first premium plug-in hybrid electric vehicle, will be in Miami for the first time when Warren Henry displays the Karma at the Fontainebleau Miami Beach,
4441 Collins Avenue
May 15th, beginning at 10:00 AM at the main valet entrance.
Hosted cocktail reception, 6p – 8p
RSVP to "Karma": rsvp@warrenhenryauto.com
The event is part of a 42-city tour celebrating California-based Fisker Automotive's new North American retail network. A full tour schedule and images are available online in the News section of www.fiskerautomotive.com
The Fisker Karma is the world's first premium plug-in hybrid electric vehicle (PHEV). It combines world-class luxury and sports car-like performance with industry-leading economy and zero tailpipe emissions.
With 403hp it can reach 60mph in six seconds and a top speed of 125mph, yet it can achieve more than 100mpg on an annual basis. The Karma has a total range of 300 miles, 50 of which are electric-only and powered by a Lithium-ion battery from A123 Systems that can be fully recharged in as little as eight hours from any electrical outlet.
The four-seat sedan was designed by Fisker Automotive CEO Henrik Fisker, who also designed the Aston Martin DB9 and BMW Z8, both of which were featured in James Bond movies.
"In building our U.S. network we selected retailers with a successful track record handling established premium brands and delivering a premium customer experience," said Mr. Fisker.
Warren Henry Automobiles has served South Florida for more than 34 years, and has consistently been a top performer in terms of sales and service. The group consists only of luxury brands, including Land Rover, Jaguar, Infiniti, Volvo, Fisker and Lamborghini.
Warren Henry Zinn, President of Warren Henry Automobiles, comments, "We're very excited to bring the Fisker brand to Miami. The vehicle represents everything we appreciate in a car – style, performance and advanced technology. This is one car that truly is like no other, and it is a vehicle that people will need to drive to believe!"
Distinctive, stylish and green, the Karma is priced competitively within its segment and appeals to eco-friendly customers who don't want to compromise their passion for driving.
Fisker Automotive created the premium plug-in hybrid segment when it introduced the Karma at the 2008 North American International Auto Show as a concept. Initial customer deliveries are expected to begin first quarter 2011. The Fisker Karma order bank already exceeds 1,600 vehicles.
In September 2009 Fisker Automotive was approved for a conditional Department of Energy loan of $528.7 million, which will go toward the development of a line of lower-priced plug-in hybrids as well as the purchase of a former GM assembly plant in Wilmington, Delaware. The company expects to create up to 5,000 direct and indirect U.S. jobs in the coming years.
For details call the Fisker Miami Personal Concierge line at: 888-616-6006 or 305-690-6006