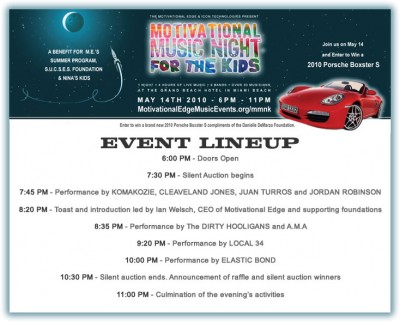 "Motivational Music Night for the Kids" is going to be a very cool night of live music at the newly renovated Grand Beach Hotel at 4835 Collins Avenue. The event is a fund raiser for the The Motivational Edge's summer music programs, of which Musical Missionary will hopefully play a part.
The Motivational Edge is one of Musical Missionary's key partners. It is together with TME that Musical Missionary will be able to design and implement our own youth music programs as opposed to simply sponsoring kids in other programs. It will be a milestone for Musical Missionary to start its own youth music program, which can happen this summer with all of your support. With as little as $500, we can have our own summer class of 3 or 4 students learning how to play the keyboard and introduce them to the world of digital recording.
The more Musical Missionary supporters who come out to this event, the more money we will raise for our own youth music program this summer. Tickets are $35, which gets you dinner, 2 drinks and 4 hours of some of Miami's best live music. There will also be cool items up for auction like hotel and cruise packages, sports memorabilia and a cash pot. A Porsche Boxster S will also be raffled off.
MOTIVATIONAL MUSIC NIGHT FOR THE KIDS 2010
Brought to you by The Motivational Edge and its non profit partners, S.U.C.S.E.S. Foundation and Nina's Kids
Join us on May 14th 2010 and learn how to enter and win a brand new 2010 Porsche Boxster S compliments of the Danielle DeMarzo Foundation.
Come join us Friday, May 14th, 6pm-11pm at the exquisite Grand Beach Hotel on Miami Beach to support The Motivational Edge's summer programs for underprivileged children, S.U.C.S.E.S. Foundation and Nina's Kids. Prepare yourself for a night of exceptional musical talents as they perform under the stars with you as our guest enjoying delicious foods, beverages, specialty drinks and many more surprises! Throughout the evening you will be inspired with the musical sounds presented by students and by local superstars such as Cleaveland Jones, Local 34, Elastic Bond, Komakozie, Juan Turros of Suénalo and many more. Musical genres will range from Ska to Latin Rock and everything in between. The music will be non-stop and so will the fun and excitement! Get ready for our one of a kind Concert Fundraiser, Motivational Music Night for the Kids 2010!
You will enjoy a complimentary and savory blend of Italian and Latin food prepared by A La Fusion Catering and 2 Drink Tickets for every guest to enjoy at any time until 11pm*
Motivational Music Night For The Kids
KOMAKOZIE of the Big Bounce
CLEAVELAND JONES
JUAN TURROS of Suénalo
LOCAL 34
ELASTIC BOND
Grand Beach Hotel
7TH Floor Terrace | 4835 Collins Avenue |
Miami Beach, FL 33140-2751 | (305) 538-8666
On Facebook
Get there, before you get there! Check out the event layout.