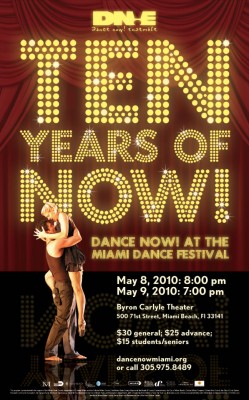 Tickets available through ticketmaster.com or at the festival website: www.momentumdance.com
The Dance Now! Ensemble concludes its 10th Anniversary Season at the Miami Dance Festival
DNE Program II: TEN YEARS OF NOW! Dance Now! at the Miami Dance Festival
May 8, 2010: 8:00 pm
May 9, 2010: 7:00 pp
Byron Carlyle Theater
500 71st Street, Miami Beach, FL 33141
$30 general; $25 advance; $15 students/seniors; group rates available
Box Office: 305-867-4194, Ticketmaster For info call: 305-975-8489/305-858-7002
www.dancenowmiami.org
www.momentumdance.com
Description: The Dance Now! Ensemble concludes its 10th anniversary season at the Miami Dance Festival with highlights from ten years of audience favorites, and presenting Melody in Four Parts: Just Traveling, a collaboration with Seattle-based poet Janée J. Baugher and Ohio-based composer Jenny Bernard Merkowitz, and featuring Decade, a retrospective of Dance Now!'s choreography celebrating the ten-year partnership between Diego Salterini and Hannah Baumgarten.