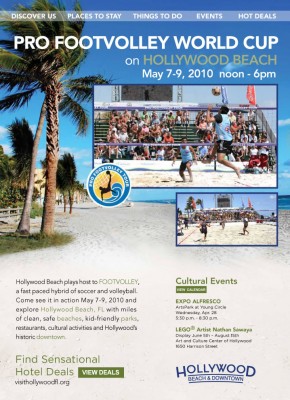 Pro Footvolley World Cup on Hollywood Beach
May 7-9, 2010, noon-6pm
Hollywood Beach plays host to Footvolley, a fast-paced hybrid of soccer and volleyball. Come see it in action May 7-9, 2010 and explore Hollywood Beach, FL with miles of clean, safe beaches, kid-friendly parks, restaurants, cultural activities and Hollywood's historic downtown.
PRO FOOTVOLLEY TOUR 2010 HOLLYWOOD BEACH OPEN
Hollywood Beach Broadwalk
Friday-Sunday, May 7-9, 2010
12:00 p.m. – 6:00 p.m.
The world's most spectacular professional footvolley event returns to Hollywood Beach this May. The internationally televised event will attract amazing athletes from all over the world to compete for the grand prize. Footvolley, a fast-paced Brazilian hybrid of volleyball and soccer born on the beaches of Rio de Janeiro, is growing in popularity and is expected to attract thousands of fans from South Florida's vibrant sports and cultural community. Don't miss this exciting international event, taking place during Mother's Day Weekend in beautiful Hollywood Beach.
Information: 954-921-3404 or www.FootVolleyWorldCup.com.
For more information, visit www.VisitHollywoodFL.org