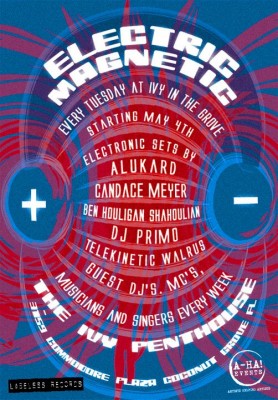 Electric Magnetic
5/4/2010 and every Tuesday thereafter, 9pm-4am
The Ivy (penthouse)
3159 Commodore Plaza (3rd Floor)
Coconut Grove, FL
http://www.facebook.com/event.php?eid=112439655463178
We will be floating up to the 3rd floor in our electromagnetic force field glass elevator every Tuesday night at the IVY in the Grove.
If you've never been to the Ivy, you're in for a treat. It's like a castle in there.
Every week, we will be featuring our super awesome nucleus of artists, as well as other artists from around town that will be gracing us with their various faces and talents.
We'll be hooking up the ladies with free martinis until 12 and good deals on everything else for the entire night.
Features Are:
AlukarD (Electronic DJ Set)
Candace Meyer & Olfactory
Ben Houligan Shahoulian
DJ Primo
&
Telekentic Walrus
Come join us as we bring the Grove back to life!
Brought to you by A-HA! Events & Friends ♥