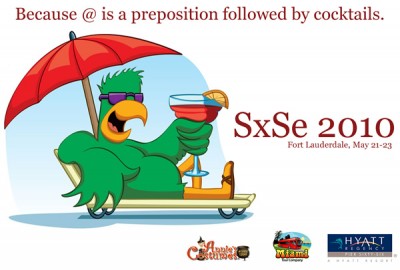 About SxSe
We're a group of friends on Twitter who love to get together for partying in South Florida! This year's sub-tropical tweetup takes place in Fort Lauderdale, May 21-23. Please tag all related tweets #sxsemia.
CLICK HERE: Hotel, RSVP and More Information.
Schedule of Events
Some details may be subject to change. Follow @sxse to stay up to date. Food/drink specials, parking details and other info to be announced.
Thursday, May 20
Some guests arrive at hotel — free time at your leisure. Possible group dinner in Fort Lauderdale, location TBA.
For free time @vicequeenmaria recommends:
Hyatt Pier 66 free shuttle to beach for hotel guests.
Via water taxi: tour of New River; breakfast at The Floridian; lunch at historic Downtowner Saloon or Himmarshee; shopping on Las Olas; tour of historic Stranahan House and/or Bonnet House. More tips to come!
Friday, May 21
More guests arrive. Free time at your leisure. Possible group dinner and water taxi fun ride in Fort Lauderdale, location TBA.
Saturday, May 22
9 AM – 3 PM – Poolside @SxSe Cabana at the Hyatt Pier 66. Hotel guests may join and/or enjoy Fort Lauderdale at their leisure. All welcome, no set schedule, come and go. Possible appearance by @poolboy.
4 PM – 6 PM Mock unconference panels at Hyatt Pier 66, Chairman's Boardroom, @vicequeenmaria moderating. All welcome. Possible topics:
The Art of Interaction @SxSe by keynote speakers @annohio and @preppydude. Learn how to hug the stuffin' out of people.
Power of the Pussy discussion led by @preppydude with @vicequeenmaria @dearyvette and @annohio speaking on this very important topic — not rated X but definitely grown-up! Totally safe for work.
6 PM – ? Big Tweetup at Pelican Landing, located in marina at Hyatt Pier 66. All welcome. Please RSVP for head count.
Sunday, May 23
11:30 AM Brunch at Pier Top. @SxSe guest coupons no longer available, but if you wish to enjoy brunch, please make your own reservation and seating time.
Rest of day at leisure for remaining guests.