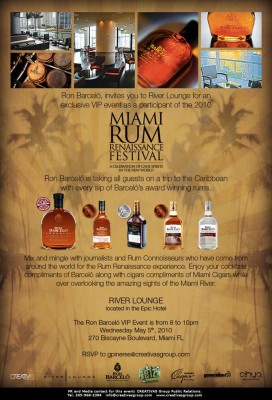 BARCELÓ RUM TO HOST MIAMI RUM RENAISSANCE SANCTIONED VIP EVENT AT RIVER LOUNGE
Ron Barceló over the past year has taken aggressive steps to expose their brand to North America. Armed with new bottle designs, tag line, and strategy they have made waves specifically in New York and South Florida. Next week is just the latest step in their ascendance in the world of spirits as they are a major player in this year's prestigious Miami Rum Renaissance Festival. Barceló was chosen to host one of officially sanctioned Rum Renaissance VIP events this Wed. May 5th 2010 at River Lounge located inside the Epic Hotel.
The Rum Renaissance Festival which is considered one of the premier international Rum events will take place from May 5-9 2010. The Festival boasts a series of Rum competitions, seminars, grand tasting event, and VIP events. This year's festival which is put together by rum aficionado Robert Burr is certain to be the biggest ever as over 100 spirit writers and bloggers are flying in for the festivities.
The Ron Barceló VIP event will dazzle guests as they chose a venue that fits perfectly with the Caribbean essence that is rum. Overlooking the soothing waters of the Miami River, River Lounge is the perfect destination for Miami's trend setters. Upon entering the River Lounge guests will be greeted by gorgeous models in flamboyant tropical attire. Guests will have the opportunity to sip on complimentary cocktails provided by Barceló while enjoying the sights and sounds that make River Lounge one of the premier venues in Miami. To top off this fabulous event one can stroll out to the terrace which overlooks the waters ways and enjoy their rum cocktail with a perfectly paired cigar compliments of Miami Cigars. The Ron Barceló VIP event is just another step towards showing the world what quality rum is all about.
Ron Barceló made huge ways when they created Ron Barceló Imperial. Ron Barceló Imperial's coup d'état on the rum world is well known as it attained the title of "World's Best Rum" after attaining a staggering 97 points out of 100, this being one of the highest scores in the history of the prestigious Beverage Testing Institute of Chicago. Such quality isn't easily attained. Barceló Imperial is processed in one of the most modern distilling plants in the region. Perfection comes from using molasses from the finest sugarcane in the Caribbean and naturally aging for ten years in Kentucky oak barrels once used to age bourbon. The rest of the recipe is a long held secret by the Barceló family which adds to the mythical story of this superior rum. How it is made is one thing but the real pleasure starts when one sits back and sips on this world class spirit which is truly fit for the rum connoisseur.
When asked about the direction of Barceló in the near future, Alex Mejido, vice president of Blend Wine & Spirits stated: "We are so excited about all the great new initiatives we will be implementing in the further to grow the awareness and loyalty to Ron Barceló. With changes in the times, consumers and marketplace, come changes in the way that we do things to promote our brand. With that said I wish to invite all rum lovers to our event and to experience the Rum Renaissance."