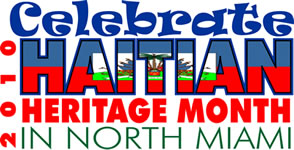 As a part of North Miami's Haitian Heritage Month Celebration, on Saturday, May 1 at 4:30 pm, Michée Ramil Remy will demonstrate the tradition of metalwork in which hammer and chisel are used to transform oil drums into artworks that incorporate elements of the Haitian and Caribbean culture. An exhibition of artworks by Michée Ramil Remy and Serge Jolimeau is on view in MOCA's Lobby Gallery.
Haitian Heritage Month Kick-Off Celebration
Saturday, May 1, 2010 | Free Admission
3 – 5 pm | Hands On Creative Arts activities for children.
4 : 30 pm | Metalwork demonstration by Artist Michée Ramil Remy
5 : 30 pm | Live music and dance performances hosted by Zakafest
For a complete list of North Miami Haitian Heritage Month events please visit www.northmiamifl.gov/celebrate
Museum of Contemporary Art | 770 NE 125 Street | North Miami | FL | 33161
Thank you for using Soul Of Miami!