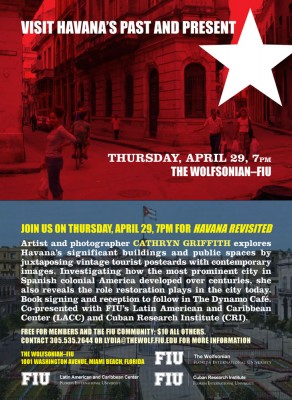 VISIT HAVANA'S PAST AND PRESENT
THURSDAY, APRIL 29, 7PM
THE WOLFSONIAN–FIU
Join Us on Thursday, April 29, 7pm for Havana Revisited
Artist and photographer Cathryn Griffith explores Havana's significant buildings and public spaces by juxtaposing vintage tourist postcards with contemporary images. Investigating how the most prominent city in Spanish colonial America developed over centuries, she also reveals the role restoration plays in the city today. Book signing and reception to follow in The Dynamo Café. Co-presented with FIU's Latin American and Caribbean Center (LACC) and Cuban Research Institute (CRI).
Free for members and the FIU community; $10 all others.
Contact 305.535.2644 or lydia@thewolf.fiu.edu for more information.
INFORMATION:
305.535.1001
info@thewolf.fiu.edu