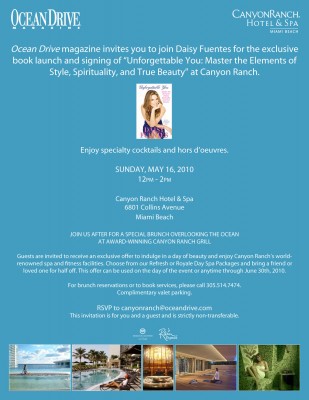 Ocean Drive Invites You to Join Daisy Fuentes for the
Exclusive Book Launch and Signing of "Unforgettable You" At Canyon Ranch
Enjoy Canyon Ranch's Specialty Cocktails & Hors D'Oeuvres
SUNDAY, MAY 16, 2010
12 PM-2 PM
CANYON RANCH HOTEL & SPA
6801 Collins Avenue
Miami Beach
JOIN US AFTER FOR A SPECIAL BRUNCH OVERLOOKING THE OCEAN
AT AWARD-WINNING CANYON RANCH GRILL!
Guests will receive an exclusive offer to come back and enjoy Canyon Ranch's world-renowned spa and fitness facilities!
Choose from Canyon Ranch Refresh or Royale Day Spa Package and bring a friend or loved one for half off, now through June 30, 2010.
For Brunch Reservations, please call 305-514-7474
Complimentary Valet Parking
RSVP to CanyonRanch@oceandrive.com