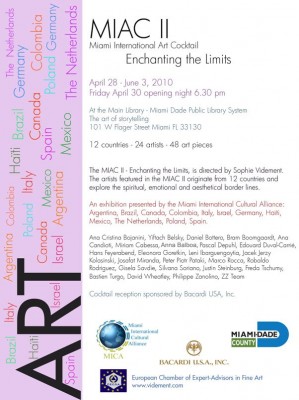 MIAMI INTERNATIONAL ART COCKTAIL II
Friday April 30 Opening Night 6:30 pm
Program for international cultural cooperation
Enchanting the Limits
On view until June 3, 2010.
At Downtown Main Library
101 W Flagler St. Miami, FL 33130
MIAC (Miami International Art Cocktail) is an exhibition presented by the Miami International Cultural Alliance: Argentina, Brazil, Canada, Colombia, Italy, Israel, Germany, Haiti, Mexico, The Netherlands, Poland & Spain, featuring 12 countries, 24 artists and 48 art pieces.
Directed and curated by Sophie Videment, MIAC II: Enchanting the Limits seeks to explore the spiritual, emotional and aesthetic border lines crossed and blurred by each of the artists.
Featured artists: Ana Cristina Bojanin; Yftach Belsky, Daniel Bottero, Bram Boomgaardt, Ana Candioti, Miriam Cabessa, Maite Centol, Pascual Depuhl, Edouard Duval-Carrie, Hans Feyerabend, Eleonora Goretkin, Leni Ibarguengoytia, Jacek Jerzy Kolasinski, Josafat Miranda, Piotr Pataki, Marco Rocca, Robaldo Rodriguez, Gisela Savdie, Silvana Soriano, Justin Steinburg, Freda Tschumy, Bastien Turgo, David Wheatley, Philippe Zanolino, ZZ Team.
The Exhibition Runs from April 28-June 3 at the Miami-Dade Main Public Library.
The Cocktail Reception on April 30 (opening night) at 6 pm is sponsored by Bacardi USA, Inc.