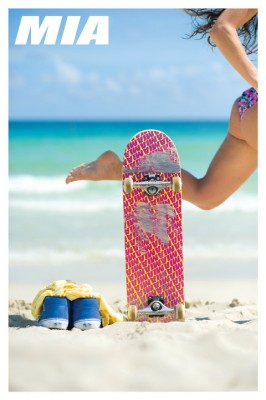 The MIA Program
2nd Opening April 23rd
Kill Your Idol
222 Espanola way
Miami Beach, Fl 33139
The MIA Program: A ten year retrospective of Miami as seen through the eyes of Miami local skate boarders/photographers Ian O'Connor and Frankie Galland is back for a second viewing.
The MIA Program lures you in to the world of… well yes, skateboarding in Miami, but it also offers an honest portrayal of Miami's style, culture, and some of the very colorful characters who call Miami home. (Aka the 'Lurkers' series)
Some of Ian's photos have debuted on covers of the most respected skate mags in the world, while other have never been shared with the public until now. 'The Program' does not only focus on the physical act of skateboarding, but also documents what skaters encounter out in the streets of the magic city. From the gutters in Liberty City, to breathtaking aerial views of Biscayne Bay, Ian takes you on a visual journey through one of the United States most vibrant and fascinating cities, all the while capturing some of the finest skate boarders in the world.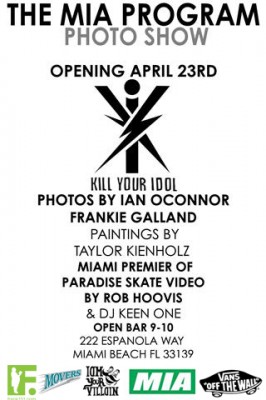 You may know Frankie Galland from MIA Skateshop where he pretends to own the place! In the past and present though he's been known as a man behind the lens shooting for Strength Magazine as photo editor, as well as many other publications from Swindle to Skateboarder. He spends his free time dancing like Ian Curtis and enjoying Johnny on the rocks.
Artist Taylor Kienholz was born and raised in a small skateboard staple town, Santa Cruz ca. he has been a part of the skateboard family for over 10 years, hes lived in many united state cities making friends in San Francisco, Los Angeles, New York, and has found his home base with his wife and daughter in Miami beach fl. his artwork has a bold yet rustic feel to it with destressed woods and aged hand tools. his content ranges from playful cartoon birds and Mexican folk art to refined stained wood work, and art installations. he currently works for Urban Outfitters on Miami beach and designs and builds all their display installations. visit taylorkienholz.blogspot.com to see more of his work.
Music by DJ Keen One
PARADISE SKATE VIDEO PREMIER By Rob Hoovis