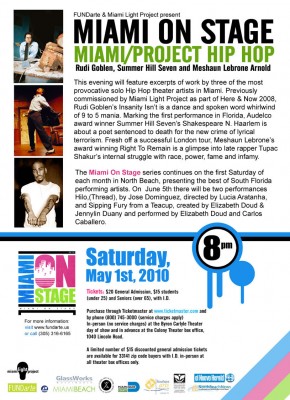 Miami Hip Hop Project featuring Rudi Goblen, Summer Hill Seven and Meshaun Lebrone Arnold
FUNDarte and Miami Light Project present a Miami On Stage
Miami Project Hip Hop
This evening will feature excerpts of work by three of the most provocative solo Hip Hop theater artists in Miami. Previously commissioned by Miami Light Project as part of Here & Now 2008, Rudi Goblen's Insanity Isn't is a dance and spoken word whirlwind of 9 to 5 mania. Marking the first performance in Florida, Audelco award winner Summer Hill Seven's Shakespeare N. Haarlem is about a poet sentenced to death for the new crime of lyrical terrorism. Fresh off a successful London tour, Meshaun Lebrone's award winning Right To Remain is a glimpse into late rapper Tupac Shakur's internal struggle with race, power, fame and infamy.
5/1/2010 8:00 PM
Buy tickets now.
$20 General Admission, $15 students (under 25) and seniors (over 65), with I.D. Purchase through Ticketmaster at www.ticketmaster.com and by phone
(800) 745-3000 (service charges apply), or in-person (no service charges) at the Byron Carlyle day of show after 4PM and in advance at the Colony Theare box office, 1040 Lincoln Road, noon to 5PM.
A limited number of $15 discounted general admission tickets are available for 33141 zip code buyers with I.D. in-person at all theater box offices only
Byron Carlyle Theater
500 71st Street
Miami Beach