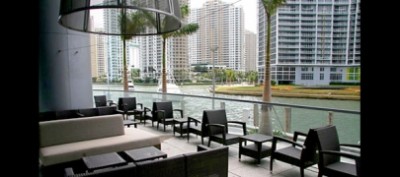 EPIC SUNDAY – Sunday April 25 @ 6pm
It's Sun-Day, and for some this means they're commencing a dreadful and long week the very next day and they're already spoiling what's left of their weekend with worries, for others this is the day they visit their annoying in-laws, and for many it's a time to be home in front of the t.v. watching some tedious show with its constant, never-ending, sickening commercial breaks…
RIVER LOUNGE Epic Hotel
270 Biscayne Boulevard Way
Miami, FL 33131
No cover charge, $5 valet parking if validated, and do check with the hotel for directions in case it's your first time: 305 424 5226
Now, what if, instead of following the same old monotonous routine, you met with a fun international crowd at a chic lounge ideally situated on the river so you can either arrive by car or boat while enjoying the panoramic views, being entitled to 2-for-1 drink specials, and last but not least, moving to the liberating beats from DJ LeeOr who's been spinning the coolest vibes all over the world?
Who said Sundays have to be boring?
Ask for our euro ambassadors, Gabriele and Gian.