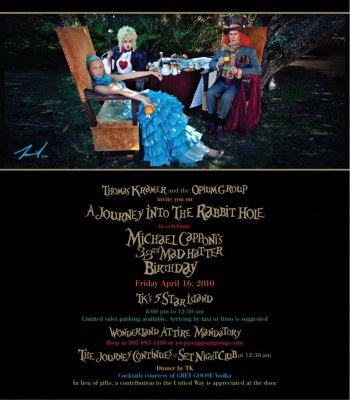 From Michael Capponi
Hi everyone!
The time has come for my annual birthday celebration. This year's theme is Mad Hatter (Alice in Wonderland) and we will journey into the rabbit hole this Friday April 16th, 2010 at TK's 5 Star Island residence. Come wearing your Wonderland attire to jump into Alice's world of rose gardens and tea parties, rabbits and mad hatters. The party is co-sponsored by The Opium Group and Grey Goose Vodka and begins at 8:30pm. TK will be offering delectable food for guests to enjoy throughout the night.
Limited valet will be available, but it is strongly suggested to arrive by taxi or limo.
In lieu of gifts, a suggested donation to United Way will be collected at the door.
The post event party will take place at SET where the theme will be continued…
Please be sure to call my office at 305-695-4410 or email rsvp@capponigroup.com to add your name to the guest list. Rsvp is required.
Remember costumes are mandatory. Feel free to get as creative as you can.
I am looking forward to seeing you all there.
Thank you!