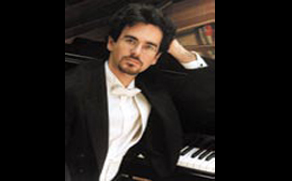 DANIEL DEL PINO IN CONCERT.
DATE: 04-13-2010
TIME: 8pm
Tuesday April 13. 8pm
PIANO CONCERT
In celebration of the Spanish Presidency of the Eupean Union.
The Embassy of Spain, The Consulate General of Spain and CCEMiami in partnership with Joaquín Achúcarro Foundation present.
Daniel Delpino enconcierto l Daniel del Pino in concert
At CCEMiami. Free admission
Centro Cultural Español
800 S Douglas Rd. Suite: 170. Coral Gables, FL 33134.
Daniel del Pino
In the last years, Daniel del Pino has established himself as one of the leading spanish concert pianists in the international scene. He has performed in all five continents. His performances have been heard in the most prestigous venues all over Europe (Salle Gaveau in Paris, Atheneum G. Enescu in Bucharest, Auditorio Nacional in Madrid, Auditorio Manuel de Falla in Granada, Auditori in Barcelona, Teatro Arriaga in Bilbao), in Morocco, Jordan, Israel, Palestine, Gabon, Japan, Taiwan (Taipei's National Concert Hall), Brazil, Mexico, Australia, and in the U.S.A (Carnegie Hall).
More info www.danieldelpino.com