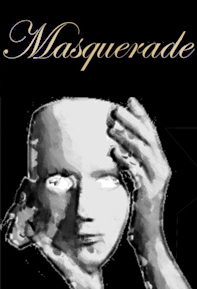 Masquerade
5/22/2010, 7-11p
gallery 101
501 north andrews ave
ft lauderdale fl 33301
www.thegallery101.net
The Gallery 101 presents "MASQUERADE": A Multi-Media Arts Event and Masquerade Ball!
Opening reception and "masked gathering"
SATURDAY MAY 22nd, 2010 From 7-11 PM
Refreshments / Wine
For those who may want to purchase a mask for this event, there will be a limited amount of masks available for sale at the door
This exhibit will include masks and other art works by artists responding to symbolic and concrete uses of masks related to carnival, ceremonial, spiritual, and other societal appearances of "masking". The exhibition will examine the mask as a wearable work of art, as a means of hiding or changing the identity of a person, as a protective device, literal and metaphoric meanings of"masking" in contemporary culture.
Historically, mask-makers have shown great resourcefulness in selecting and combining a wide array of materials. Artists in this exhibition also incorporate familiar and unexpected materials in their works.
Poetry by Mia Roman-Hernandez
Special "Masked " Performance by Jean Minuchin from 8:30 pm till 8:45pm
Be sure to be here for this very special treat!
EXHIBIT WILL INCLUDE WORKS BY THE FOLLOWING FEATURED ARTISTS;
Lily Fernandez, Adam White, Virginia Metayer, Elisabeta Hermann, Helene Ruiz, Sergio Cervantes, Lynnette Shelley, Mia Roman-Hernandez, kUrban, Janet Villasmil, Wahala Temi, Tammy Mae Moon, Patricia Ariel, Melissa Shawn Griffin, Jennifer Geiss, Damien Venditti, Rishona Cann, Joseph Intini, Judy Polstra, Jim Hammond, Joseph Intini, Jean Minuchin, Ellen Scheffler, Nelson Santiago and Nadya of Dream Pieces and Outrageous Wear
This is a special event curated by Helene Ruiz, founder of The Urban Individualists in collaboration with Adam White, of The Gallery 101..this exhibit ends June 5th
WE HAVE ALSO EXTENDED THE CALL FOR ARTIST UNTIL MAY 6, SO IF YOU WOULD LIKE TO BE A PART OF THIS PLS FOLLOW THE GUIDELINES BELOW;
MAY 2010 SHOW – MASQUERADE
Curator & Founder of the Urban Individualists has an open call to artists of all 2D and 3D mediums. Title and Theme of show is Masquerade, show will take place in May 2010 at The Gallery 101 in Fort Lauderdale.
"Masquerade" Artworks will showcase masks depicting an artistic rendition of the "Carnival, Ceremonial, Spiritual and Traditional including masks people put on each day as a disguise or a false outward show. The exhibit is sure to be an original and uniquely vibrant and colorful show. It will represent masks of many sorts and some will be of the "unexpected an expected" "traditional and non-traditional".
A Mask is a form of disguise. It is an object that is frequently worn over or in front of the face to hide the identity of a person and by its own features to establish another being. This essential characteristic of hiding and revealing personalities or moods is common to all masks. As cultural objects they have been used throughout the world in all periods since the Stone Age and have been as varied in appearance as in their use and symbolism.
The opening reception will be a "masked gathering" a "masquerade ball" multimedia art reception.
Fee: $25 US non-refundable for up to 1 image submission and $10 each image thereafter up to a total of 3 images. Works will be juried by The Gallery 101 and The Urban Individualists. Please submit image(s) for review in jpeg only via email size to Helene Ruiz the Founder of The Urban Individualists at ruizhelene(at)aol.com. SUBJECT YOUR SUBMISSION "MASQUERADE" Submissions will not be reviewed without fee which is payable via PayPal to: donations(at)theurbanindividualists.org be sure to subject your payments "fee for submission "masquerade". you can go to http://www.theurbanindividualists.org click on contact us then click on donate to pay thru paypal. Be sure to include your contact info in ur email with images, dimensions, medium, prices (gallery take 20% on sales so price accordingly) bio a/o statement and your artist name as u would like it listed on all promos. Deadline: May 6th, 2010