SHAPE®, the #1 women's active lifestyle magazine, is excited to announce its second annual "Bikini Body Tour." SHAPE will hit the sexiest beaches with 20 exhilarating fitness classes, summer fashion shows, interactive beauty cabanas, product-packed gift bags and so much more! The first (and hottest) stop on the tour is Miami, FL on Saturday, May 15. South Beachers will get their taste of SHAPE at Lummus Park at 10th Street and Ocean Drive from 10am-4pm.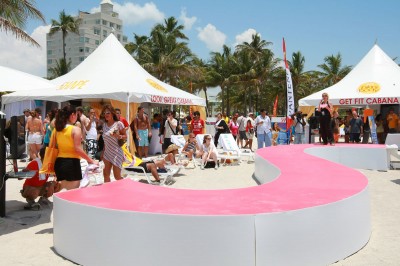 "The Bikini Body Tour" is dedicated to helping women get bikini-ready with fun-filled fitness classes lead by Equinox® Group Fitness Instructors! The variety of heart-pumping routines range from cardio classes to full body conditioning and calorie burning dance instruction. Highlights include:
• Dolphins Cheerleader Workout: This spirited workout, inspired by the Miami Dolphins Cheerleaders, targets muscles used to develop a sleek and toned cheerleader body.
• Muay Thai Kickboxing: Known as the "King of the Ring", Muay Thai incorporates punches, kicks, elbows, and knees to facedown any beach bound opponent.
• Rio Extreme: This Brazilian-inspired interval workout uses cardio moves from capoeira, samba, and maracatu to get your amazing Ipanema beach body.
• Super Sexy ABS: Get your six-pack on with this non-stop abdominals class to sexify your midsection.
From SHAPE's signature "S"-SHAPEd runway, Executive Style Director, Jacqui Stafford will host all-day fashion shows featuring the hottest looks for summer. Plus, all guests can enter to win a trip for two to Amansala Eco-Chic Resort in Tulum Mexico to take part in an exclusive Bikini Bootcamp program!
Go to http://www.BikiniBodyTour.com to pre-register for classes. Each class is only $10 and everyone that pre-registers will receive a deluxe swag bag! Can't make the May 15th tour stop? Next stop on the Bikini Body Tour will be Santa Monica Beach on June 5th! Tickets on sale now.
For more bikini body fun, check out Equinox Fitness Clubs during the month of May. Equinox will host SHAPE Bikini Body classes at their clubs nationwide. Go to http://www.BikiniBodyTour.com for complete details and to find an Equinox location near you. Not an Equinox member? Download a complimentary one-dayVIP Trial Membership to Equinox Fitness Clubs online at http://www.BikiniBodyTour.com.
SHAPE is proud to announce that proceeds from the Bikini Body Tour will benefit The Skin Cancer Foundation. The mission of the Foundation is to decrease the incidence of skin cancer through public and professional education and research.
Additional Bikini Body Tour Partners: Dr. Scholl's® For Her, GNC®, Gillette® Venus® Bikini, Michelob Ultra®, OP®
About SHAPE: SHAPE, the global leader in the active lifestyle category, provides today's woman with inspiring, straight-talking editorial to enrich her mind and body. SHAPE is published by Weider Publications, Inc., the most influential publisher of the world's leading health, fitness and active lifestyle magazine brands. Log on to http://www.SHAPE.com for the latest in fitness, beauty and fashion.
About EQUINOX: Equinox Fitness Clubs operates 48 upscale, full-service facilities in New York, Chicago, Los Angeles, Florida, Dallas, D.C, Boston and San Francisco. The company offers an integrated selection of Equinox-branded programs, services and products, including strength and cardio training, group fitness classes, personal training, spa services and products, apparel and food/juice bars. Since its inception in 1991, Equinox has developed a lifestyle brand that represents service, value, quality, expertise, innovation, attention to detail, market leadership and results.