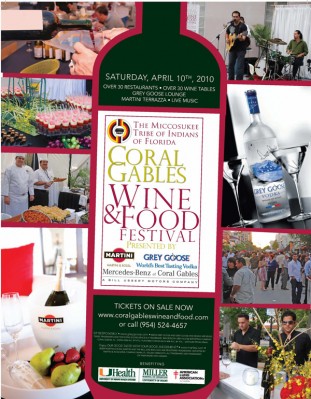 Join us on Saturday, April 10th, 2010 for the 7th Annual Miccosukee Tribe of Indians of Florida Coral Gables Wine & Food Festival, presented by GREY GOOSE® Vodka, MARTINI® vermouth, Premier Beverage Company, and Mercedes-Benz of Coral Gables as Giralda Avenue becomes center stage for South Florida's most prestigious charity event. Enjoy world class cuisine, exquisite wines and live entertainment, all for a great cause!
Crown Wine & Spirits is the exclusive festival retailer and will be offering deep discounts on all event featured wines.
Premier Beverage, Co. will pour wines from around the world.
Over 30 of Coral Gables' finest award winning restaurants will showcase their signature chef favorites.
Live entertainment performed by local artist "Live Bait".
The GREY GOOSE® Lounge at the festival embodies the luxurious lifestyle of GREY GOOSE®, "The World's Best Tasting Vodka." By creating the perfect setting, guests are able to enjoy a variety of specialty cocktails made with GREY GOOSE Vodka as well GREY GOOSE® Flavors: L'Orange, Le Citron and La Poire.
The MARTINI Terrazza will open by 8pm to all ticket holders. In the era of glittering celebrity and smooth style, the MARTINI Terrazza was a place for the famous and influential to meet and toast one another. Come and join us for a sip of MARTINI and a taste of true glamour in the MARTINI Terrazza at the Festival.
The 100 Block of Giralda Avenue, between Ponce de Leon Boulevard and Galiano Street will be opened to foot traffic only for a special evening of philanthropy. Proceeds benefit The American Lung Association in Florida-South Area's lung research, education and patient assistance programs and The International Bronchitis Center at The University of Miami Miller School of Medicine.
Street festival tickets – $50.00 per person
The street festival is located on the 100 block of Giralda Ave. between Ponce de Leon and Galiano Street from 7:30p.m. – 10:00p.m. This ticket includes sampling from over 30 of the areas best restaurants paired with wines from around the world at more than 25 tables. Included in this ticket is the GREY GOOSE® Lounge & and the MARTINI Terrazza will re-open by 8pm for all ticket holders to enjoy.
VIP tickets (includes Street festival admission) – $150.00 per person
The exclusive VIP Ticket entitles patrons from 6:00 p.m. – 7:30 p.m. to experience an open bar courtesy of Bacardi USA. A $150 donation includes the MARTINI Terrazza experience, spirit bar, superb hors d'oeuvres by Miccosukee Resort & Gaming: Empeek-Cheke, Fine Dining Restaurant, a VIP gift bag (includes a special bottle from our sponsors) and admission to the street festival immediately following.