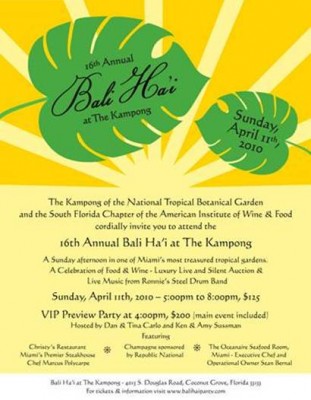 Sunday, April 11th, 2010
Bali Ha'i at The Kampong
To Support The Kampong of the National Tropical Botanical Garden and The South Florida Chapter of
The American Institute of Wine and Food
Event Schedule
VIP Preview Party* – $200
(Main Event Included)
4:00 PM – 5:00 PM
Hosted by: Tina and Dan Carlo and Amy and Ken Sussman
*Preview Party attendance is limited.
Please see ticket information for details.
Bali Ha'i Party – $125
5:00 – 8:00 PM
Experience exotic foods and drinks as prepared by South Florida's finest chefs. Live and silent auctions. Exotic and tropical dancers will stroll the party dancing for and with you.
Live Music Provided by Ronnie's Steel Drum Band
Useful Information: Attire is garden chic, paired with bursts of bright yellow and sunshine. Flat shoes are recommended.
Parking will not be available at The Kampong.
Complimentary parking with shuttle service will be provided only at Plymouth Congregational Church, 3400 Devon Road, off Main Highway.
Welcome to 16th annual Bali Ha'i at The Kampong, Sunday, April 11, 2010.
Bali Ha'i is a glorious afternoon of gourmet dining and fine wine among the exotic tropical botanical collection of The Kampong of the National Tropical Botanical Garden located in Coconut Grove.
Regarded as one of the most popular events on the Miami social calendar, Bali Ha'i has sold out each of its fifteen years with over 500 in attendance.
Guests come from all around south Florida, including the immediate neighborhoods of Coconut Grove and Coral Gables and also Miami Beach, Key Biscayne, Aventura and South Miami. Because of its reputation and popularity, Bali Ha'i tickets are coveted. Bali Ha'i patrons have diverse backgrounds and interests; you will find many are wine and gourmet food enthusiasts, wine collectors, patrons of the arts and cultural institutions and advocates of South Florida's unique cultural and environmental heritage.
The Bali Ha'i VIP Preview Party is held one hour prior to the main event featuring the creative work of three of our outstanding chefs, last years peoples choice award winners. This exclusive preview to the main event provides champagne views across the Bay to
Key Biscayne.
The creations of Miami's best chefs, incredible wines, a stellar auction, and one of the most beautiful views of Biscayne Bay are the perfect recipe for this fundraiser to benefit The Kampong and the American Institute of Wine & Food.