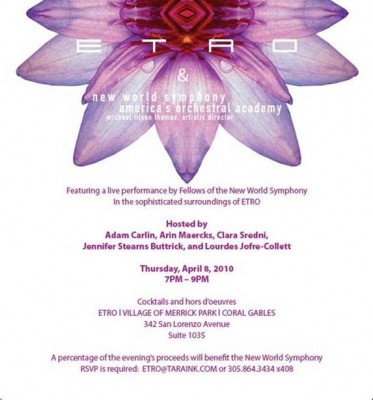 ETRO – VILLAGE OF MERRICK PARK HOSTS EXCLUSIVE EVENT IN SUPPORT OF THE ARTS
Luxury Italian Fashion House Hosts Exclusive Shopping & Fundraising Event Benefiting the New World Symphony
WHO/WHAT: Etro, high-end Italian ready-to-wear men's and women's apparel and lifestyle brand, is hosting an exclusive in-store social shopping and charitable event in the heart of Coral Gables' premier shopping destination. The private event will take place on Thursday, April 8th from 7:00 p.m. – 9:00 p.m., where a portion of the evening's proceeds will benefit the New World Symphony.
Hosted by the New World Symphony's top donors including Adam Carlin, Arin Maercks, Clara Sredni, Jennifer Stearns Buttrick and Lourdes Jofre-Collett.
In the opulent surroundings of Etro's Village of Merrick park flagship and in the company of South Florida's top influencers, guests are invited to experience an extraordinary live performance by Fellows of the New World Symphony and Spring 2010 fashion presentation with models while indulging in classic tastes of Italy including prosecco compliments of Martini & Rossi and hors d'oeuvres from Elite Catering. Peruse Etro's latest collection – reflecting their cultural heritage – including remarkable prints, luxurious fabrics, and rich color combinations featured in a variety of menswear, womenswear, fine leather goods, accessories and footwear.
WHEN: Thursday, April 8, 2010, 7:00 p.m. – 9:00 p.m.
WHERE: 342 San Lorenzo Avenue, Village of Merrick Park, Suite 1035, Coral Gables, FL 33146
About Etro – Village of Merrick Park
Etro conjures a vision of poetic, sophisticated designs and enlightened, colorful collections including the men's, women's, accessories, home and fragrance collections. It also brings to mind a family consisting of two generations of innovators – the Etro family. Etro leads fashion's niche for colorful collections and insiders know it as the consummate resource for luxurious fabrics with distinctive prints and embellishments. Etro was the first house to look to the East for inspiration (making paisley a veritable hallmark) and is a continual purveyor of history and art. Every collection in each division recounts an era of art or culture. Etro opened in the Village of Merrick Park in December of 2002 and is currently one of five boutiques in the United States.
About New World Symphony
New World Symphony is dedicated to the artistic, personal and professional development of outstanding instrumentalists. The NWS fellowship program provides top graduates of music programs here and abroad the opportunity to enhance their musical education with the finest professional training. A laboratory for musical education and expression, the New World Symphony, through a wide range of performance and instructional activities, seeks to develop in participants the full complement of skills and qualifications required of twenty-first century first class musicians. Under the artistic direction of Michael Tilson Thomas, the program offers in-depth exposure to traditional and modern repertoire, with the active involvement of leading guest conductors, soloists and coaches.