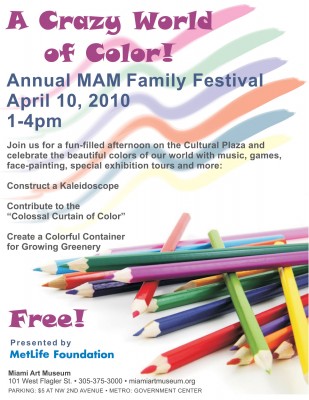 Miami Art Museum invites you and your family to the 13th annual MAM Family Festival
"A Crazy World of Color"
Carlos Cruz-Diez, Cromosaturacion, 1965/2010. Installation view Miami Art Museum. Photo by Oriol Tarridas.
Saturday, April 10, 2010 , 1-4pm
Miami Art Museum
Cultural Center Plaza
101 West Flagler Street
Miami, FL 33130
Parking $5 at 50 NW 2nd Ave.
Free, open to the public
Information: 305.375.4073 or miamiartmuseum.org
Join us for a FREE, fun-filled afternoon of music, games, face-painting, special exhibition tours and art activities inspired by Carlos Cruz-Diez: The Embodied Experience of Color (on view at MAM through June 20, 2010). Held annually each April, this special Second Saturdays are Free for Families fills the Cultural Center Plaza with a variety of activities the whole family can enjoy.
Construct a Kaleidoscope
Contribute to the "Colossal Curtain of Color"
Create a colorful container for growing greenery
Performance by "Bounce, Ooo LaLa and Daniel" Juggling Variety Show
Presentation by Kids Love Mother Earth
Miami Art Museum is sponsored in part by the State of Florida, Department of State, Division of Cultural Affairs and the Florida Arts Council, and the National Endowment for the Arts; with the support of Miami-Dade County Department of Cultural Affairs, the Cultural Affairs Council, the Mayor and the Board of County Commissioners. Miami Art Museum is an accessible facility. For sign language interpretation or assistive listening devices please call Miami Art Museum's education department 305.375.4073 at least five days in advance. Materials in accessible format may be requested.