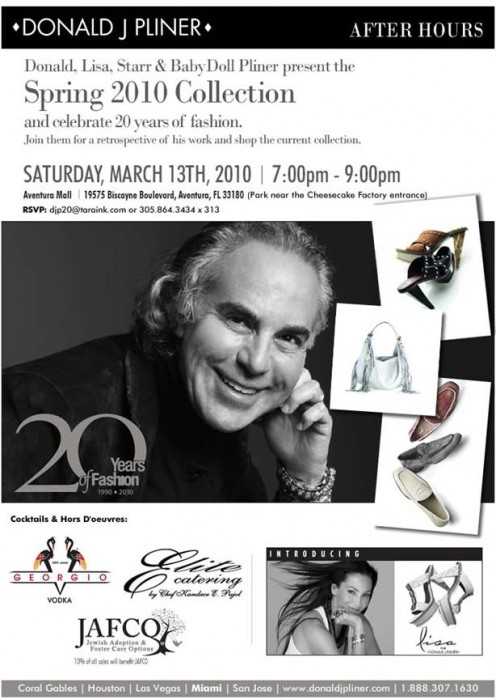 Saturday, March 13th Donald J Pliner is celebrating 20 years of fashion with a retrospective of his work and preview for his Spring 2010 collection at Aventura Mall.
Join us from 7PM – 9PM to kickoff the soiree with signature cocktails provided by V Georgio and canapés from Elite Catering.
CELEBRATING TWO DECADES OF SOLE SPLENDOR
Donald J Pliner Hosts Meet & Greet at Aventura Mall
WHO/WHAT: Notable, luxury footwear and accessories designer Donald J Pliner, will be celebrating 20 years with a four-in-one celebration. On Saturday, March 13th, the visionary along with wife and creative director Lisa Pliner will host a designer meet-and-greet, Spring 2010 collection presentation, shopping event and cocktail reception at Aventura Mall, where the day's proceeds will benefit Jewish Adoption & Foster Care Options, Inc. (JAFCO).
Today, the global brand, manufactured in both Italy and Spain, has established an almost cult following among men and women. From his signature collection that debuted in 1989 introduced the first all-year elastic shoe, setting a new standard in comfort to the triumphant rebirth of chunky heels in last year's Fall 2009 collection, the brand is known for its Italian craftsmanship, unprecedented comfort, innovative designs and fashion-forward style – making Donald J Pliner the epitome of excellence.
To mark its second successful decade, Donald J Pliner's 20-year retrospective will explore the breadth of his career, showcasing an exhibition that includes notable styles including heels, boots, mules, sneakers and Western footwear to memorialize 20th anniversary.
The fundraising shopping event will take place from 2:00 p.m. to 6:00 p.m., where guests are invited to partake in a memorable retrospective montage featuring a bevy of the brand's iconic compilation of over 40 collections.
Highlighting the designer's success, top donors and influencers will toast to 20 years of accomplishments with a cocktail hour from 7:00 p.m. to 9:00 p.m. Guests will enjoy signature cocktails provided by V Georgio and hors d'oeuvres provided by Elite Catering.
WHEN: Saturday, March 13, 2010
Shopping Event from 2:00 p.m. to 6:00 p.m.
Cocktail Reception from 7:00 p.m. to 9:00 p.m.
WHERE: 19575 Biscayne Boulevard
Suite 803
Aventura, FL 33180
About Donald J Pliner
Founded in 1989, Donald J Pliner is a collection of men's and women's casual and dress footwear, handbags and leather clothing. The collection is sold nationwide at select specialty stores, upscale department stores such as Saks Fifth Avenue, Nordstrom, Dillard's, Bloomingdale's and five concept stores in Aventura, FL; Coral Gables, FL; Houston, TX; Las Vegas, NV and San Jose, CA. For more information on Donald J Pliner, please visit www.donaldjpliner.com.
About Jewish Adoption & Foster Care Options, Inc.
Jewish Adoption and Foster Care Option, Inc. (JAFCO) is a nonprofit agency established in April 1992. JAFCO currently provides an entire continuum of programs and services for at-risk children and their families with programs including family preservation, adoptive parent recruitment, foster care placement, adoption placement, emergency shelters and group homes.