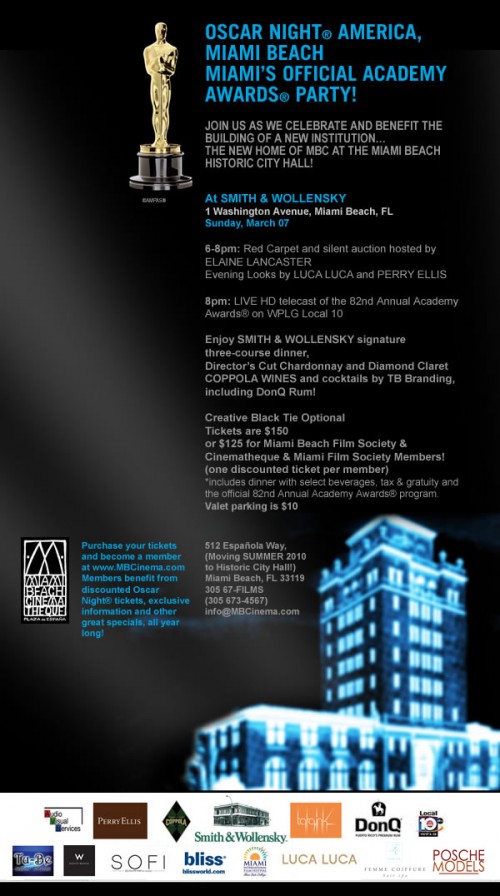 MIAMI BEACH FILM SOCIETY'S CINEMATHEQUE and SMITH & WOLLENSKY
HOST 2010 OSCAR NIGHT® AMERICA, MIAMI BEACH
Miami Beach Film Society's Cinematheque chosen as beneficiary for the eighth year in a row
The Academy of Motion Picture Arts and Sciences has selected the Miami Beach Film Society's Cinematheque for the eighth year in a row to host and be the beneficiary of the official celebration in Miami for the Oscar Night® America (ONA) party. Oscar Night® America viewing parties are the official nationwide celebrations of the Oscars®. ONA Miami Beach 2010, presented by Miami Beach Film Society' Cinematheque and Smith & Wollensky, will take place on Oscar® Sunday, March 7, 2010. Smith & Wollensky, the premier, waterfront steakhouse in South Beach, is located at 1 Washington Avenue, Miami Beach, FL.
Additional Oscar Night® sponsors include Francis Ford Coppola Presents, Audio Visual Services, Miami International Film Festival, BP Branding, SOFI, LUCA LUCA, and Perry Ellis.
The Oscar Night® America, Miami Beach red carpet and silent auction will be hosted by diva extraordinaire Miss Elaine Lancaster. Red carpet arrivals will begin at 6:00 p.m. offering fabulous evening looks courtesy of LUCA LUCA and Perry Ellis. All fashion will be showcased by Posche Models with hair styling and make-up by Femme Coiffure Hair Spa. Guests will then watch the Oscar® telecast live from the Kodak Theatre at Hollywood & Highland Center® in Hollywood starting at 8:00 p.m. (EST) on WPLG Local-10. Attendees will toast Oscar winners while enjoying Smith & Wollensky's signature three-course dinner with Director's Cut Chardonnay and Diamond Collection Claret by Coppola Wines, while bidding on exciting items during the event's silent auction. Oscar® fans will also be able to predict the night's winners using a ballot system and become eligible to win great prizes! Oscar Night® promises an experience that exudes the classic glamour and luxury of the 82nd Annual Academy Awards, complete with the Academy Awards® show program booklet for all guests.
The Miami Beach Cinematheque is Miami's leading art cinema, an all digital screening room and photographic arts gallery located at 512 Española Way on South Beach, with programming throughout the year including screenings of Oscar® winning and nominated films in many categories. This year's annual ONA fundraising event will benefit the Cinematheque's upcoming move to the historic Miami Beach City Hall in summer 2010. MBC is the only officially sanctioned beneficiary of the Miami Oscar Night® America.
Oscar Night® America, the Academy of Motion Picture Arts and Sciences' grassroots program, enables local charities to be the official hosts of glamorous Oscar® viewing parties across the country. Since its inception in 1994, Oscar Night® America has generated funding for a wide spectrum of charitable organizations — every cent staying within the community where it was raised, none of it going to the Academy. ONA, now in its second decade, has raised nearly $17.5 million for charities throughout the United States.
Tickets to the 2010 Oscar Night America Miami Beach are available for $150 or $125 for Miami Beach Film Society & Cinematheque and MIFF members. Please visit www.MBCinema.com for tickets. For sponsorship opportunities or press inquiries, contact Gino Campodonico at TARA, Ink., 305.864.3434 ext. 156.
Smith & Wollensky Miami Beach opened in 1997 and is located in beautiful South Pointe Park. The southernmost restaurant in Miami Beach, the steakhouse has stunning oak and marble interior, views of the downtown Miami skyline, and serves as the perfect setting to view cruise ships passing through the Government Cut shipping channel. The restaurant seats up to 600 people – 450 on two floors, 75 in the Grill and 30 in Mrs. Wollensky's Cigar Bar. Smith & Wollensky is located at 1 Washington Avenue in Miami Beach, Florida. For more information or to make reservations (besides Oscar Night®), please contact 305-673-2800 or visit www.smithandwollensky.com.