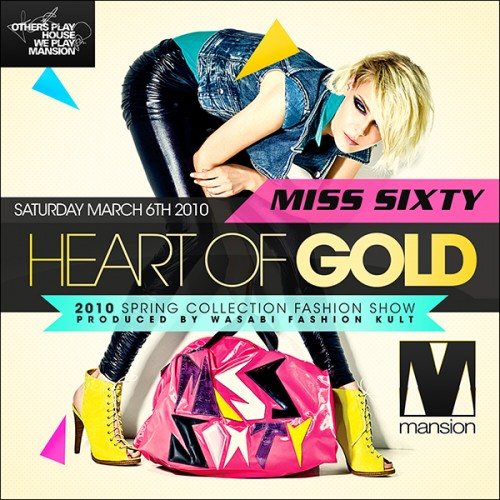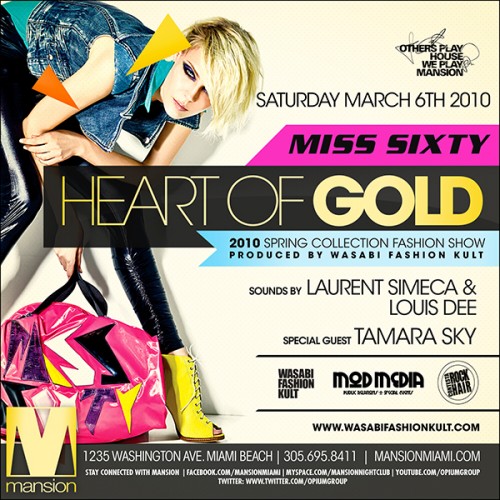 HEART OF GOLD FASHION SHOW
GIRL TALK…
Wasabi Fashion Kult, MOD Media & The Opium Group present Miss Sixty's 2010 Spring/Summer Collection on Saturday, March 6, 2010 at Mansion Nightclub. Guests are invited to join us as we transform the runway into a Barbarella inspired Heart of Gold fashion odyssey. We have hand picked the top 10 fashion models in Miami as they strut down the catwalk in a full collection consisting of the latest denim, spring prints, and bright colored dresses all to the tunes of superstar DJ Tamara Sky. Showcasing how the "Wasabi girl" is a fun, fearless gal under mysterious black frames, big punk hair, trendsetter extroverted style and hot pink shocking lips, Wasabi Fashion Kult Magzine introduces the Heart of Gold fashion show.
"To live by the Girl Talk Philosophy she must be opinionated and daring. Whether it be Fashion, Music or Culture, she expresses herself in a way that does not apologize.
We are who we are and like who we are and we'd like to inspire others to do the same. We encourage individuality and artistic declaration" says Pamela, Fashion Director at Wasabi Fashion Kult Magazine. Collaborating with Miss Sixty is a dream come true for any agency and we are proud to present the freshest show to hit Miami Beach. For more information on the Miss Sixty Heart of Gold fashion show or to RSVP please contact: hello@wasabifashionkult.com
About Miss Sixty www.misssixty.com
Established in 1991, MISS SIXTY was the answer to the absence in the denim market exclusively dedicated to women. From this, the brand rapidly established itself as an International reference fashion brand. Particularly appreciated for the wide offer of denims with a unique and original style, the collections distinguished themselves from others season after season for their feminine, seductive, contemporary and ironic style. The brand is completed through lines of shoes, accessories, sunglasses, jewels, fragrances and also recently by a mobile phone and a household linen collection.
About Wasabi Fashion Kult www.wasabifashionkult.com
Wasabi Fashion Kult is a global cultural movement located in Miami. WFK operates as a communication online service/magazine providing weekly updates on urban cultural matters. Inside Wasabi, you can find what the nightlife and artist culture likes to do, thinks about and demands nowadays. We talk: FASHION, MUSIC AND CULTURE; and we excel in it.
About Mansion Night Club & The Opium Group: www.mansionmiami.com
The Opium Group is one of the country's most successful hospitality conglomerates, operating Miami's top Mansion, SET, Louis Bar-Lounge at Gansevoort South, Cameo Theatre, and Mokai as well as Opium at The Seminole Hard Rock Hotel & Casino in Hollywood, FL. A driving force behind South Beach's ongoing cultural renaissance, The Opium Group has been heralded by Harpers's Bazaar, Travel & Leisure, People, Time, The Miami Herald, and numerous other publications for drawing A-list celebrities and the international jet-set to Miami Beach.
About MOD Media LLC: www.modmediamiami.com
MOD Media LLC. is a full service public relations and special events firm based in Miami, FL. MOD Media is dedicated to representing brands in all aspects of the entertainment industry; such as Fashion, Beauty, Hospitality, and Corporate clients. MOD Media works diligently to meet the needs of their clients, and guarantees successful execution to all press and media outlets. MOD Media is a partnership between two talented young professionals and sisters, Jennifer & Christine Henry. These two accomplished females have combined their skill and knowledge to produce impeccable high profile events as well as extensive media representation for their clients.
DJ Tamara Sky www.djtamarasky.com
She has DJ'd the Pamela Anderson hosted Mac Cosmetics Fashion Week launch party in New York, Donald Trump's birthday hosted by Carmen Electra and the after party for the J-lo and Marc Anthony concert. Sky has also headlined events with celebrities such as Scott Storch, Fat joe, Benji Madden, Paris Hilton, Kim Kardashian, Jenny Mcarthy, Danity Kane, Janet Jackson, Keri Hilson and many others. She's Been featured in E!'s reality hit T.V show The Girls Next Door, Miami based magazine Ocean Drive and front page feature in New York's Missbehave magazine. T Sky is a globetrotting DJ that plays Electro House, Hip Hop, Rock, Funk, Disco, 80's and Minimal Tech. With such a packed schedule, it's hard to believe she finds time for her other talents, such as photography, graphic design, modeling and drawing. With breathtaking beauty and sex appeal, and budding success in the Film, TV, Music, and modeling industries, it is no wonder that Tamara Sky is quickly becoming a world renowned superstar DJ.
Sponsored by We Love Colors www.welovecolors.com
Opaque tights are expressive and fun! you'll love our colors too!! We Love Colors clothing is available in the largest selection of color anywhere. Now with over 51 to choose from on tights, leggings, fishnet pantyhose, fishnet stockings, thigh highs, and other colorful hosiery items.
Sponsored by Contesta Rock Hair www.contestarockhair.com
Take one of the most recognized salon chains in Italy and Europe add young fresh and innovative hair stylists and you have Contesta Rock Hair in Miami. Cutting edge cuts and trendy styles put Contesta Rock Hair one step ahead of the rest. It is a fusion of European and Western flavors that make the unisex cutting experience unique at this parlor on Espanola Way.
We are constantly looking out for new stimuli and new looks to apply to the veracity of the demanding Miami clientele in each and every angle of the world. Clients range from locals and models to young tourists who is ready to claim Miami. Beautiful artwork of young artists is constantly exsposed inside the salon and free beers and real Italian espresso offered to the clientele. The music, the original furnishings and the quality of the services make up for the rest.
Facebook Invite: Heart of Gold by Wasabi