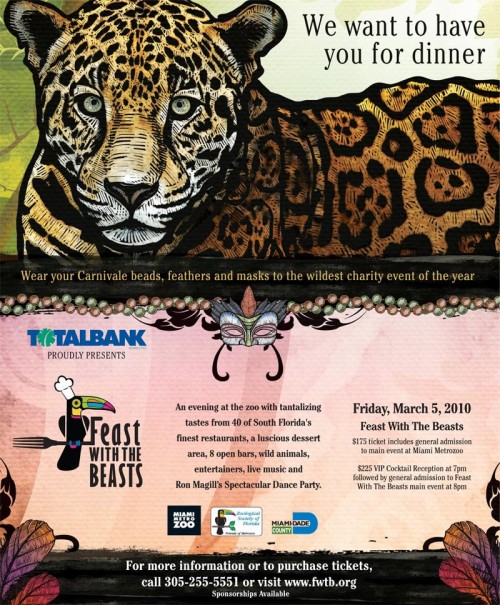 ZOOLOGICAL SOCIETY OF FLORIDA HOSTS FEAST WITH THE BEASTS PRESENTED BY TOTALBANK ON MARCH 5, 2010 AT MIAMI METROZOO
Feast With The Beasts is the legendary dining event that combines tastes from more than 40 of South Florida's finest restaurants, full open bars, wild animal encounters and live entertainment
MIAMI, FL – February 23, 2010- The Zoological Society of Florida and the Host Committee are celebrating wildlife in the spirit of Carnival during its 17th annual Feast with the Beasts (FWTB) on March 5, 2010 at 8 PM Miami Metrozoo. Proudly presented by TotalBank, this fundraiser supports the Zoological Society of Florida's wildlife education and conservation programs on behalf of Miami Metrozoo.
Taking place along the brightly lit pathways of the Zoo, Co-Event Chairs Irene Korge and Norma Jean Abraham invite guests to wear Carnival-style beads, feathers and masks to this unique charity event. Zoo supporters attending the party can expect complimentary valet parking, delicious tastes from 40 of South Florida's finest restaurants, eight open bars, wild animal encounters, and live entertainment. Some of the entertainment lined up includes DJ Donny Michaels, the Miami Heat dancers, Pyro Fusion fire dancers, and Flowering Arts Movement belly dancers.
An extravagant silent auction will include items such as gift certificates to Myra & Company Salon and Day Spa & Miami Spa month, a 7-day Carnival Cruise, stays at the Catalina Hotel, and Craig Bone and Kim Donaldson art.
Even after all of the wining and dining, every guest is invited to Ron Magill's Spectacular Dance Party from 10 PM to midnight at Dr. Wilde's World plaza. Live entertainers and the hottest DJ in town playing the latest tunes will make the party unforgettable.
FWTB participating restaurants and dessert providers include:
Beastkeeper VIP Cocktail Party
Key Largo Fisheries & Seafood Market; Ruth's Chris Steak House
Main Event
A&S Delicious Catering Services; Bijan's Restaurant ; Bill Hansen Catering
Carbonell Olive Oil; Dave & Buster's; Extenda , Andalucia Spain
Fancy Koi II; Fare to Remember Creative Catering; Fit2Go Gourmet Meal
Gatsby's Kendall; Giardino's Gourmet Salads; Gotham Steak Miami
Kaliapy's – Casual Fine Italian Dining; Kitchen 305; Mango Café at the Fruit & Spice Park
Ruby Tuesday; SUSHISAMBA dromo; Taste of the Wild!
The Ivy in the Grove; The Melting Pot; Town Kitchen & Bar
Trattoria Sole; Tropical Smoothie Café; We're Having A Party, Inc.
Dessert and coffee
Aroma Espresso & Cappuccino Bar; Blue Bell Ice Cream; CrepeMaker
Cupcakes Nouveau ; Ghirardelli Ice Cream & Chocolate Shop; Hot Cookies
Jole's D' Lites; Sweet Crumbs Café ; 2 Girls and A Cupcake
Limited general admission tickets to FWTB are available for $175 and Beastkeeper VIP tickets are $225. Beastkeeper VIP Party tickets includes entry to FWTB at 8 PM and a VIP Cocktail Reception at 7 PM. Those planning on attending should make advanced reservations. Sponsorship packages are also available. Visit www.fwtb.org or call (305) 255-5551 to purchase tickets or for more information.
TotalBank is the presenting sponsor for Feast with the Beasts. Comcast is the Official Communications Partner of the event. Harpy Eagle sponsors include: FP&L; Ryder Charitable Foundation; Shutts & Bowen LLP; White & Case, LLP. Toucan Sponsors include: Assurant; Carnival; Mark Joseph-Russo on behalf of Geraldine Russo; Carbonell; Cherokee Enterprises Inc.; Miami Jai-Alai; and United Property Management. Anaconda Sponsors include: Anthony B. Abraham Foundation; Bernstein Global Wealth Management – a unit of AllianceBernstein L.P.; CapTrust; Bank of America; Manny Gonzalez MGM Foundation; Commissioner Sally Heyman; Infante, Zumpano, Hudson & Miloch, LLC; and United Way.
The Zoological Society of Florida is a non-profit 501(c)3 that supports Miami Metrozoo through education, conservation and outreach programs; marketing and public relations; volunteer services and financial support for the construction of new exhibits.
Miami Metrozoo is located at 12400 SW 152 street; Miami, FL 33177. General Zoo Admission is: $15.95 per Adult and $11.95 per Child (3-12), plus tax. Children under two, ZSF members and parking are free. Metrozoo's hours are 9:30 am – 5:30 pm; ticket booths close at 4 pm. For more information please visit www.miamimetrozoo.com.