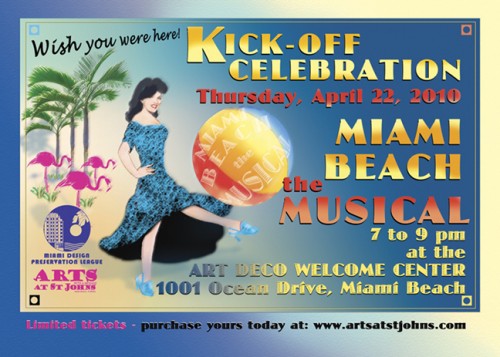 WHEN: Thursday, April 22, 7 – 9 pm
WHAT: KICK-OFF CELEBRATION PARTY for WISH YOU WERE HERE – the History of Miami Beach – the MUSICAL. Live preview of The MUSICAL, with Food, Drinks, Silent Auction, and more.
WHERE: Art Deco Welcome Center, Miami Design Preservation League (a co-sponsor), 10th Street and Ocean Drive, Miami Beach 33139
COST: Advance-sale tickets only. INFO: call 305-613-2325
DETAILS AT: www.artsatstjohns.com. See our FaceBook page for info on the History of Miami Beach project.
*WISH YOU WERE HERE*
"The History of Miami Beach"
is getting bigger and better
NEW DATES!
Kick-off party at MDPL* – Thurs., April 22, 7 pm
Premiere of Full Musical – Fall dates TBA
Our project has snow-balled, gaining incredible momentum & support from everyone in the community! So we're collaborating and making the show bigger and better than ever!
The project now includes parties, workshops, art exhibits, book/play readings, jazz events — AND we are collaborating with composers and songwriters to come up with all original musical for the fall show.
More details to follow about Kick-Off Party*
*collaboratiing with Miami Design Preservation League, The Market Company and Sandbar Lounge
And we still want your stories about Miami Beach!
Here are some of the characters we have met so far!
Aristotle Ares, Dona Zemo, Robert Bowman, Commissioner Deede Weithorn,Ellie Schneiderman, Caryl and Harold Unger, Merle Weiss
Send us your story via email artsatstjohns@bellsouth.net
or post it on our FaceBook wall – photos welcome!!
More info: www.artsatstjohns.com or call 305-613-2325.