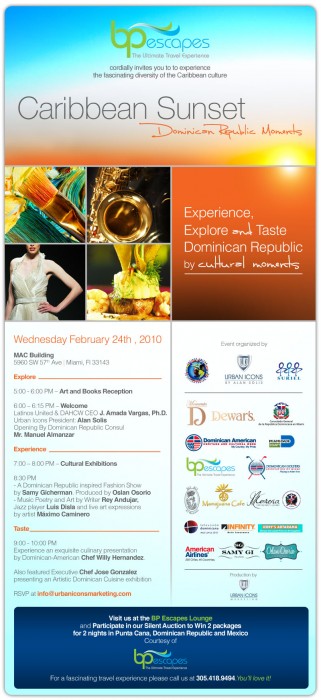 BP Escapes cordially invites you to to experience the fascinating diversity of the Caribbean culture
Caribbean Sunset Dominican Republic Moments
Experience, Explore and Taste Dominican Republic by Cultural Moments
Wednesday February 24th , 2010
MAC Building
5960 SW 57th Ave | Miami, Fl 33143
Explore
5:00 – 6:00 PM – Art and Books Reception
6:00 – 6:15 PM – Welcome
Latinos United & DAHCW CEO J. Amada Vargas, Ph.D.
Urban Icons President: Alan Solis
Opening By Dominican Republic Consul Mr. Manuel Almanzar
Experience
7:00 – 8:00 PM – Cultural Exhibitions
8:30 PM
– A Dominican Republic inspired Fashion Show by Samy Gicherman. Produced by Oslan Osorio
– Music Poetry and Art by Writer Rey Andujar,Jazz player Luis Disla and live art expressions by artist Máximo Caminero
Taste
9:00 – 10:00 PM
Experience an exquisite culinary presentation by Dominican-American Chef Willy Hernandez.
Also featured Executive Chef Jose Gonzalez presenting an Artistic Dominican Cuisine exhibition
RSVP at info@urbaniconsmarketing.com
Visit us at the BP Escapes Lounge and Participate in our Silent Auction to Win 2 packages for 2 nights in Punta Cana, Dominican Republic and Mexico
Courtesy of BP ESCAPES
For a fascinating travel experience please call us at 305.418.9494. You'll love it!