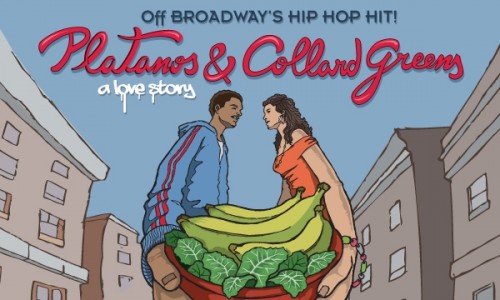 Carnival Studio Theater
(Inside the Ziff Ballet Opera House)
February 17-28
"A modern day West Side Story!" raved The New York Times.
BUY TICKETS NOW!
or call our box office at 305.949.6722.
Spicy, sweet and delicious, Platanos and Collard Greens is the long-running off-Broadway hip-hop romantic comedy that asks if love between blacks and Latinos can survive. College kids Freeman and Angelita give it a try—until her Mom finds out and has a heart attack. It's a star-crossed love affair guaranteed to make you think while laughing out loud!
The Courier Times, New York city's leading African-American newspaper, calls the show "stimulating, breathtaking, a mind-blowing must-see!" La Diva Latina Magazine says "Bring your appetite for laughter!"
"Love Conquers All" Community Discussion: Interracial Relationships
Thursday, February 18
Please lend your voice to the community discussion that will take place on Thursday, February 18 immediately following the performance.
Panelists include:
– Co-Moderator: Supa Cindy, 99 JAMZ
– Co-Moderator: James Burnett, Miami Herald
– Dr. Dionne Patricia Stephens, Assistant Professor, Psychology & African Diaspora Studies, Florida International University
– Sandie Luna, Cast Member (Samana)
– Phillip J. Smith, Cast Member (Freeman)
– Susan Abascal "Miss Suzy," Founder, Miami Urban Life (Miami's first downtown social network)