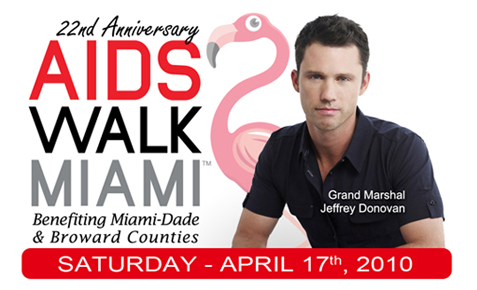 Join thousands as they unite on Saturday morning, April 17th, to kick-off the 22nd Annual AIDS Walk Miami, a 5K (3.1 mile) walk-a-thon fundraiser benefiting Care Resource, South Florida's oldest and largest HIV/AIDS community organization providing Primary Medical Care, Dental, Psychosocial, Case Management, Outreach and Prevention, Food Bank, Home Delivered Meals and Nutritional counseling and education to over 15,000 residents living in Miami-Dade and Broward counties who are either affected or infected with HIV/AIDS.
Register here.
Miami Beach Convention Center
1901 Convention Center Drive
Miami Beach, Florida 33139
Registration and opening ceremonies: 8:15 AM
Walk begins promptly at 9:00 AM
Post Walk Celebration begins at 10:00 AM
Care Resource is proud to announce and welcome Jeffrey Donovan as the 2010 AIDS Walk Miami Grand Marshal. Jeffrey stars on the hit series Burn Notice and also on the big screen, including in Clint Eastwood's film "Changeling" with Angelina Jolie. On Burn Notice, Jeffrey plays Michael Westen, a spy who was burned, cast away and is now trying to return to his prior spy career.
Register Online is Easy as 1 – 2 – 3
1. Log on to www.aidswalkmiami.org and select the Register Here button.
2. Choose to Start a Team, Join a Team, Join as an Individual or to Register Multiple people.
3. Enter your information and you're ready to go.
Should you have any questions about the registration process or team information, please contact us at 305-751-WALK(9255) or by email at info@aidswalkmiami.org
If you would like to learn more about the various levels of event sponsorship, please contact our Event Coordinator, Steven Beko at 305-576-1234 X258 or by email at sbeko@careresource.org