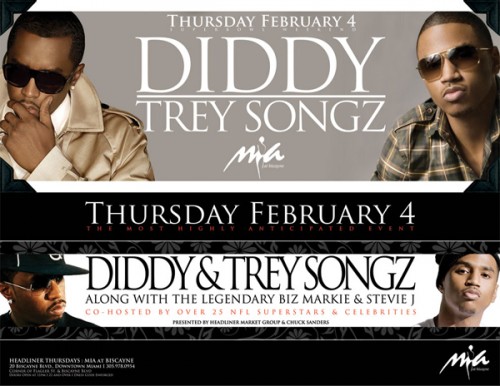 Mike Gardner and Headliner Entertainment are pleased to host one of the hottest events to hit South Florida this Thursday, February 4th, 2010. The fabulous event will take place at Mia at Biscayne located at 20 Biscayne Boulevard in the heart of Downtown Miami. Over two dozen athletes and celebrities will gather for a night at one of Miami's most beautiful venues.
Featuring one of the most powerful names in the entertainment industry, Sean "Diddy" Combs is synonymous with luxury, and most certainly over the top. The star known for drawing crowds will be at Mia joined by Trey Songz, Biz Markie and Stevie J. Simply put, the evening will be full of surprises, delicious cocktails and lots of networking. Get ready Miami paparazzi……
Click here for more information!
Miami Nightlife