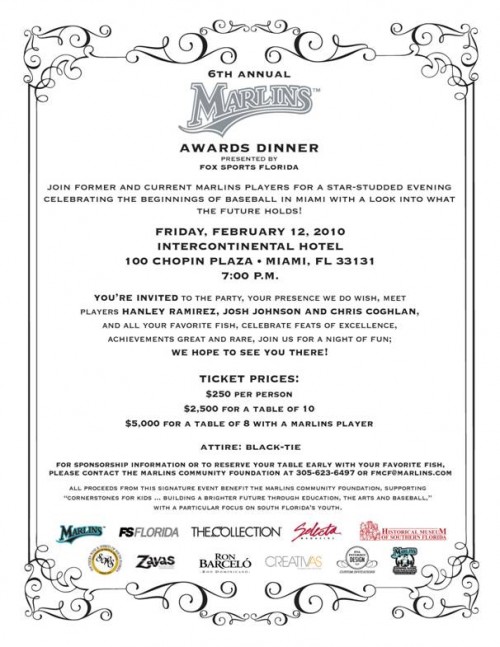 6th ANNUAL MARLINS AWARDS DINNER PRESENTED BY FOX SPORTS FLORIDA TO BENEFIT MARLINS COMMUNITY FOUNDATION'S CORNERSTONES FOR KIDS
Exclusive Fundraising Event to Help Children in Need throughout South Florida
Marlins players, coaches and an elite group of community leaders will come together for the 6th Annual Marlins Awards Dinner on Friday, February 12, 2010 at 7 P.M. at the InterContinental Hotel, Miami (100 Chopin Plaza, Miami, FL 33131).
This signature event will benefit the Marlins Community Foundation's Cornerstones for Kids programs, building a brighter future through education, the arts and baseball. The evening will feature cocktails, silent auction, dinner, dancing and awards presentation recognizing the 2009 Season including Marlins players, the Heart of the Community, Volunteer of the Year and All Heart Awards.
This year's Heart of the Community Award will be presented to Junior Achievement of Greater Miami for their continuous commitment to the South Florida Community. Junior Achievement programs focus on dropout prevention, self-esteem and workforce readiness for the global marketplace of the 21st century. The Rose Hicks Volunteer of the Year Award will be presented to Steve Eckstein for his generous and constant dedication to the Florida Marlins Community Foundation throughout the past 10 years. And the All Heart Award will be presented to Hanley Ramirez for his support and dedication to the South Florida community.
"The Marlins Awards Dinner is truly a one of a kind event," said Nancy Olson, Executive Director of the Florida Marlins Community Foundation. "Guests will enjoy cocktails, dinner and a chance to mingle with the players while making a difference in the lives of the children of South Florida."
The Marlins Community Foundation has partnered with the Historical Museum of Southern Florida in an effort to portray the beginnings of baseball in Miami, highlight important events throughout Marlins history such as opening day in 1993, World Series Championships in 1997 and 2003 and last but not least, a look into the new ballpark slated to open on Opening Day 2012.
This year's event is being chaired by Marlins President, David Samson and wife Cindi along with Host Committee members Katie Beinfest, Patty Garcia, Vivian Hill, Olga Guilarte, Alfredo Mesa, Sue Freedman, Eva Petersen, and Anabella Smith.
Guests who register for this star-studded event can enjoy a special room rate to stay at the beautiful InterContinental Hotel, Miami. To make reservations please call 1-800-327-3005 and use group code FMM or just ask for the Florida Marlins Foundation. For reservations via internet click for a direct link.
Zayas Men's Shop & Tuxedos will be dressing all the Marlins players and is extending a 15% discount for all Marlins Awards Dinner invitees and their guests. Guests can call 305-662-5757 and mention the Marlins Awards Dinner or take the invitation.
Sponsors making this evening possible include Fox Sports Florida, The Collection, Wasie Foundation, Selecta Magazine, Southern Wine & Spirits, Ron Barceló, Sharp Business Systems, Blooming Design & Events, Creativas Group, Eva Petersen Design, and Zayas Men's Shop & Tuxedos.
For more information or to purchase tickets, please call 305-623-6497 or visit the team's official website, www.marlins.com or www.marlinsbeisbol.com.
The Florida Marlins Community Foundation was established in 1999 and is a registered 501 (c) (3). The purpose of this not-for-profit charitable organization is to promote educational, athletic, and community programs with a particular focus on South Florida's youth. Since inception, FMCF has given back over $6.5M to the South Florida Community. Please visit us online at www.cornerstones4kids.com. "Cornerstones for Kids: Building a Brighter Future through Education, the Arts and Baseball."