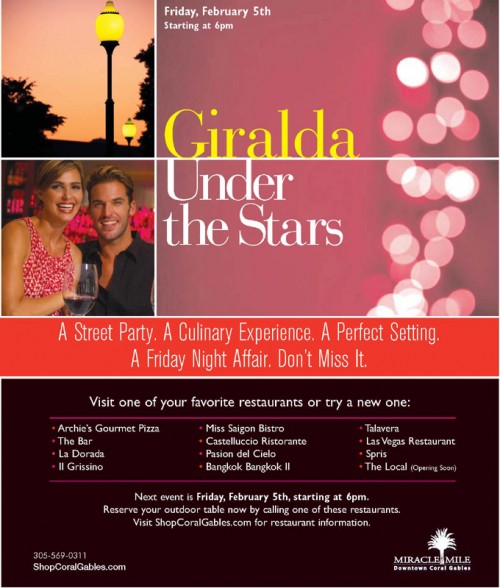 Giralda Under The Stars – Friday, February 5th!
On Friday, February 5th, 2010, Downtown Coral Gables' Restaurant Row (located on the 100 block of Giralda Ave. between Ponce de Leon Blvd. and Galiano Street) will be bustling with al fresco dining and live entertainment from 6 p.m. to midnight as part of Giralda Under the Stars.
During this new monthly event, which takes place during Gallery Night, the first Friday of every month, the street will be closed, allowing for pedestrians to enjoy an evening stroll under the stars. From the local dinner crowd looking to walk to their favorite neighborhood restaurant to the traveling gourmand seeking a new scene, Downtown Coral Gables has something for every palate.
Participating restaurants and bars include:
Archie's Gourmet Pizza
The Bar
La Dorada
Il Grissino
Miss Saigon Bistro
Castelluccio Ristorante
Pasion del Cielo
Bangkok Bangkok
Talavera Restaurant
Las Vegas Restaurant
Spris Restaurant
The Local (opening soon)
Reserve your outdoor table now by calling one of these restaurants!