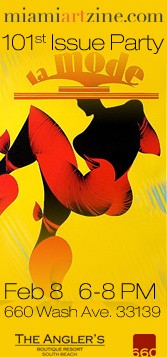 MiamiARTzine.com 101:
"Voice of the Miami Arts Scene" Celebrates 101st Issue
Monday, February 8 at 660 @ The Angler's, 5:30 – 7:30 pm
MiamiARTzine.com, the biweekly publication that serves as the Voice of the Miami Arts Scene," will celebrate publication of its 101st issue at 6 PM on Monday, February 8th at 660 @The Angler's, which is sponsoring the event.
A program of the Miami Beach Arts Trust, MiamiARTzine.com is entering its fifth year, publishing 24 issues per year. MiamiARTzine.com covers all aspects of the South Florida Arts scene, including theatre, dance, film, music and arts-related events. Each issue also includes a Photo Gallery featuring the people who support the Arts by attending openings, performances and special events.
Limited to just 150 guests, a highlight of the event will be the unveiling of the new layout and design of the online magazine. Tickets, priced at just $15 per person, include complimentary hors d'oeuvres, wine and soft drinks compliments of 660 @The Angler's. Attendees who wish to remain for dinner at the Mediterranean restaurant will receive a 15% discount.
Guests will also be entered into a raffle to win a limited edition lithograph poster entitled La Mode, signed by Sid Daniels, who created the artwork. The original painting has an illustrious history, as it was prominently displayed in the film "Tootsie." Fascinated by showgirls of a bygone era, haute couture and Latin Deco, Daniels generously donated the image for use on the event's invitation as well.
Publisher and Miami Beach Arts Trust chair Harvey J. Burstein conceived the idea of an online publication to better serve South Florida's Arts community and Arts lovers. He developed the online magazine concept with Mary Damiano, and MiamiARTzine.com made its debut on October 13, 2005. The enthusiastic response from the community has contributed to the growth of MiamiARTzine.com to nearly one million hits per month.
"MiamiARTzine.com has continued to evolve by combining a unique mix of talent and media," says Mary Damiano, editor of MiamiARTzine.com. "We are thrilled that in the face of tough times, we have flourished, and we look forward to celebrating this milestone with the readers, artists and contributors who have made our success possible."
Each issue of MiamiARTzine.com contains original articles and photographs by local writers and photographers who volunteer their time and talent to inform readers about what is going on in the South Florida Arts scene. It also has served as a career conduit for these contributors, as many of the writers and photographers who have worked with MiamiARTzine.com have received other freelance jobs based on their work being seen in, or the contacts they've made through, MiamiARTzine.com.
MiamiARTzine.com 101 takes place from 6 to 8 pm at 660 @ The Angler's, 660 Washington Avenue, Miami Beach. The event is open to the public and is limited to 150 guests. A $15 donation includes complimentary hors d'oeuvres, wine and soft drinks, along with a raffle ticket to win La Mode. RSVP required; please email mbat@miamiartzine.com or call (305) 864-3627. Go to MiamiARTzine.com and click on the La Mode poster to make contribution.
Attached: La Mode by Sid Daniels